Is Bali a suitable destination for backpackers? Contrary to what many believe and to what we ourselves thought before going, YES. This small Indonesian island, which has a reputation as an expensive, touristy and typical travel destination for brides and grooms, is also an ideal place for budget travelers as there is life beyond resorts with swimming pools. Moreover, despite its relatively small size, there is a lot to see in Bali: waterfalls, beaches, rice fields, temples …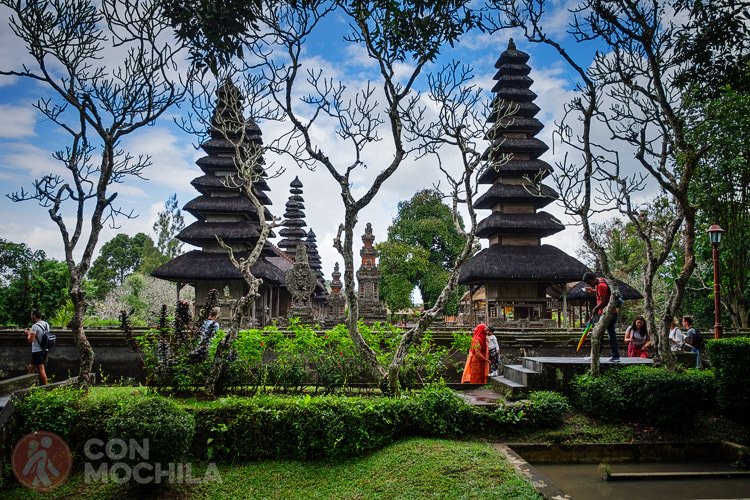 Welcome to Bali
We spent two whole weeks in this destination and we still lacked things to see and areas to travel, and that we did not go to the Gili for bad weather. Our perception of the island changed completely and left us wanting more. Do you want to know why? We'll tell you about it below.
What to do in Bali
1. See temples
Thousands of offerings at the entrances of houses, restaurants and businesses are in charge of reminding us at every step that we give the importance of faith in the life of the Balinese, mostly Hindu. Its temples are spread all over the island and the best of them is that they are in the most surprising places: lakes, cliffs, at the foot of the mountain or in the jungle. Among the most outstanding are Tanah Lot, Uluwatu or Pura Tirta Empul.
Saraswati Temple
Pure Ulun Danu Bratan
2. Practicing yoga
That yoga is the star activity of Ubud is discovered as soon as you arrive, there are schools that teach different modalities almost in every corner of the city! Gentle flow, Acro Yoga, Sky Yoga… and for all levels, because everyone can practice it: beginners, advanced or teachers.
Finding a place and a time that suits you is as simple as strolling through the streets of the centre and entering any of the centres, to ask.
Practicing a little yoga
3. Search for rice paddies
The center of Bali from the sky must look like a huge paddy field crossed by narrow and bustling roads. Rice fields everywhere, that's the landscape that accompanies you on your island excursions, so you don't really need to go to any of the tourist terraces. The Tegallalang Rice Terrace left us quite indifferent (even with a bad taste in the mouth after seeing the bad state of several civets locked in cages in some shops of the terraces where they try to sell Luwak coffee. More info at "The world's most expensive coffee hides a disturbing secret").
However the terraces of Jatiluwih are impressive and worth the time of travel from Ubud, a huge expanse of fields with beautiful views (40000 IDR).
Rice terraces
4. Healthy Eating
I think that in few places have I eaten as well and as well as I did here (except India, of course). What a pleasure to be able to go to so many restaurants where you can eat everything on the menu! Ubud not only has dozens of vegetarian and vegan restaurants, but many of the places offer dishes whose ingredients are mostly organic.
They're everywhere, you don't have to look hard to find them but I'm going to recommend the ones I liked and surprised the most: The elephant (a little away from the center but with views), Herb Library, Kafé and Atman Kafe. I really want to go back to Bali just to give that pleasure to my palate.
Vegetables… oops, there's a beer in the picture!
5. Looking for different beaches or surfing
The fame of the waters of Bali is of brave and for that reason there are many, mainly Australians, who come here to practice surf. Most wave activities are concentrated in the south, especially in Uluwatu, Canggu or Kuta.
If you want to see a black sand beach come to pantai Purnama, east of Bali. It is not a place where you can swim in the strong currents, but it is surprising to see sand so dark and yet so fine. It's a shocking landscape.
Black sand beaches
6. Visit waterfalls
We have already mentioned once that Bali's beaches are by no means the best in South-East Asia. But if you are looking for places with less currents or just want to discover the nature of the island, another option to do in Bali is to visit waterfalls, in some of them you can even swim.
Air Terjun Tegungan is very close to Ubud, but if you don't mind getting a little further away you have other options: Nungnung, Git Git, Tukad Cepung, Tibumana, Kanto Lampo, Sekempul…
Waterfalls in Bali
The photo of rigor
7. Walk through your markets
It is worth getting lost in the colourful and busy markets of Bali, not only in the Ubud market, which although they are very touristic have many shelves where you can buy gifts and souvenirs: batiks, key rings, magnets for the fridge, incense sticks? A good place to buy a piece of art is the Guwang Art Market, a market with many stalls where you will find paintings and sculptures by Balinese artists.
Very close to the previous one is the Pasar Seni Sukawati, a very interesting local market to see in Bali where everyday items are sold. It is not a tourist place but it will show you a piece of the most real island, the day to day of the Balinese. Don't be surprised if you find a lingerie in the middle of the stairs or a food stall on the floor.
Bali Markets
Looking for souvenirs
8. Enjoying Balinese dance
I would say that his movements are strange, his expression almost phantasmagoric and the music difficult to interpret, however as a whole the Balinese dance is hypnotic and to contemplate one of these traditional shows is something that every traveller should do at least once.
Every night and at different points in Ubud, dancers take to the stage. Through their gestures, especially their hands and eyes, they tell stories to the public.
Just in front of the royal palace there is an information point where you can pick up a sheet with all the shows, where they take place, the timetables and their prices.
Balinese dance
9. Enjoying nature
If we had to describe Bali with only one color we would use the green one, and not only for the one of the famous rice fields. Wherever you go there are jungles, fields or huge gardens, many temples are hidden among the undergrowth, like Goa Gajah and coconut palms decorate the convoluted and eternal roads. Even if you don't look for it, if you leave the cities, in Bali you will have your ration of nature.
Green that I want you green
Goa Gajah
Taman Ayujn
10. Rent a bike or motorbike and explore the island on your own
You can visit everything we've said before on your own. You don't need to hire excursions that may take you to places you don't want to see, you can get to everything by yourself. You can get to places in or around Ubud by bicycle if you are staying in the city.
If you want to move to more remote areas of the island we recommend renting a motorcycle because in a car you can spend hours stuck. But if you don't have previous driving experience don't risk it. traffic in Southeast Asia is generally chaotic, but we've seen few places worse than Bali.
Where do you want to go?
Visit volcanoes?
Any travel agency that organizes excursions offers visits to the volcanoes and mountains of the island of Bali. However, Mount Agung has had intermittent activity since 2017, so although we know that there are people in Bali and at the moment it seems safe to be on the island, we do not know if they continue to make excursions to this or other volcanoes …
Pure Besakih TEMPLE, at the foot of Mount Agung