If you have decided to travel to Nepal, most likely you have done so to enjoy its nature and to trek along one of its mountain routes. However, at some point you will have to step on solid ground and find a place either to plan those routes, or to rest for a few days and return to the life of the city. And that place is Kathmandu, and specifically the neighborhood of Thamel, located in the center of the city, near the old town and quite close to other interesting places in the city as Durbar square or the neighborhood of Patán.
Thamel Neighbourhood
You could say that in almost every city there is a neighborhood specially prepared for the traveler. A place with guesthouses, supermarkets, restaurants, hotels of different prices, travel agencies, exchange houses and shops, as always many shops.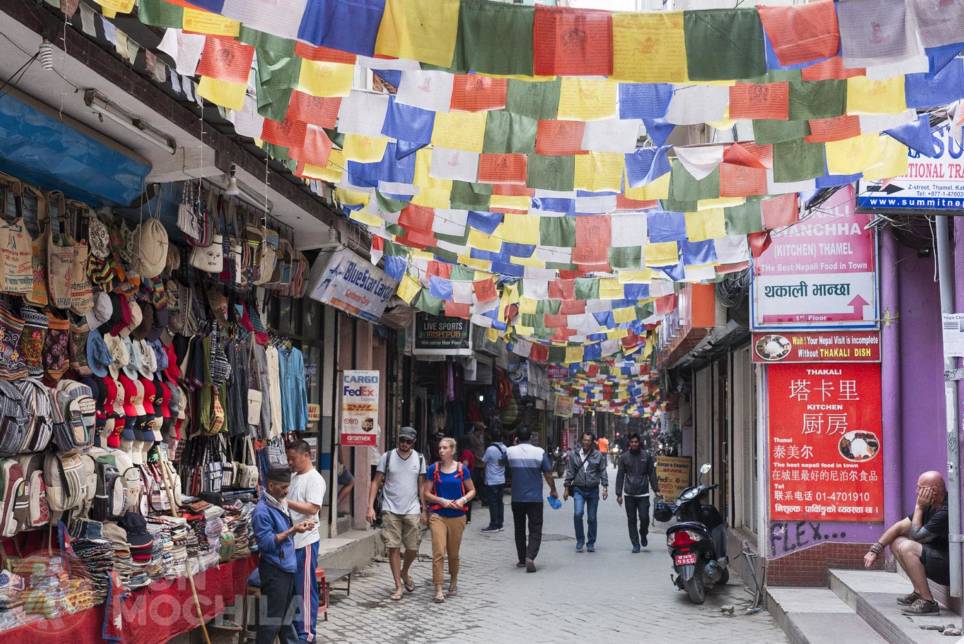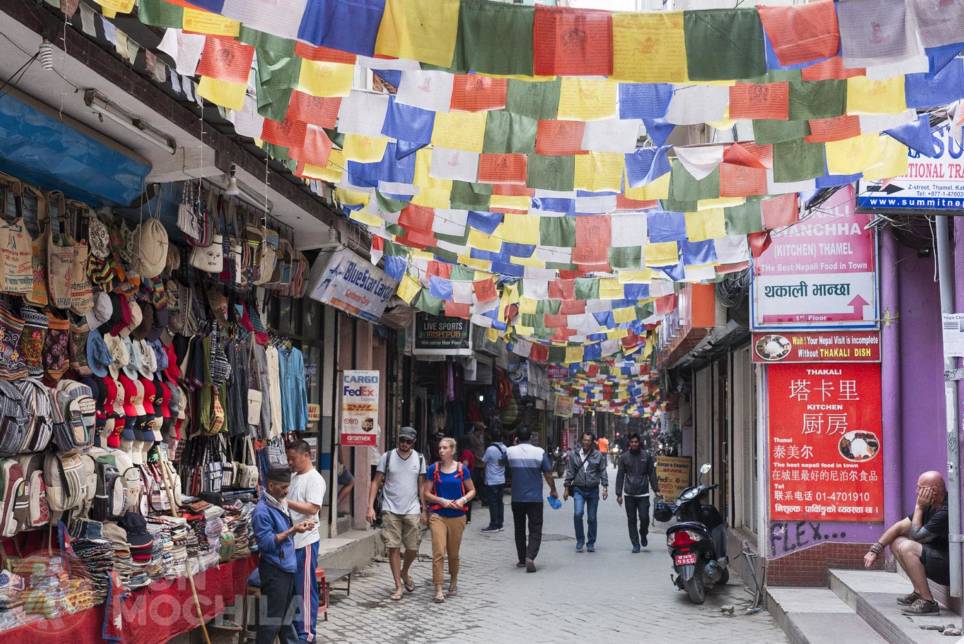 The Thamel district
Shopping by Thamel
This is Thamel, a neighbourhood specially prepared for the needs of travellers and mountaineers, with many shops specialising in mountain equipment, from backpacks, boots and mountain clothes to any other complement to the route or climbing.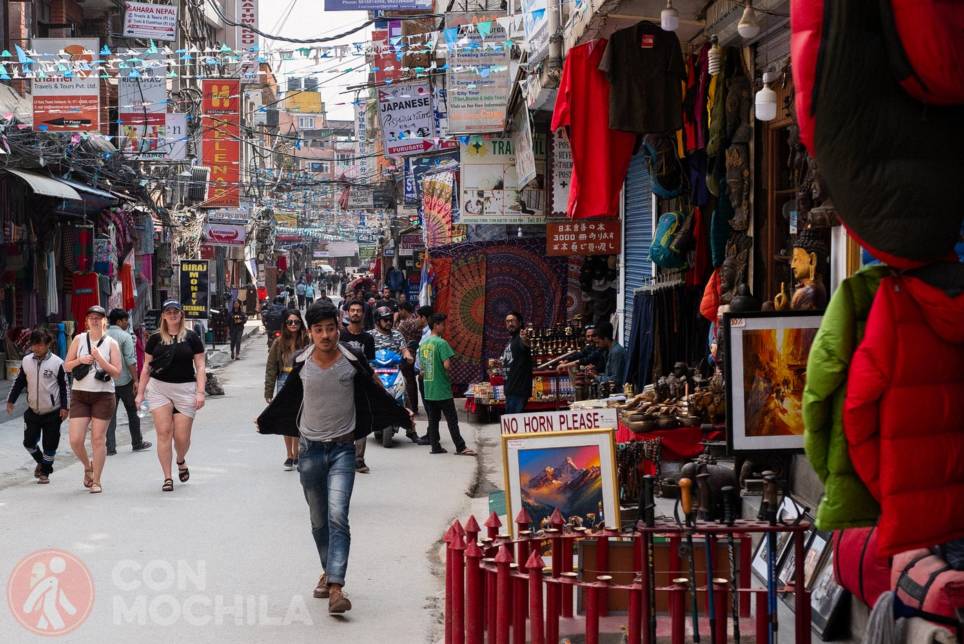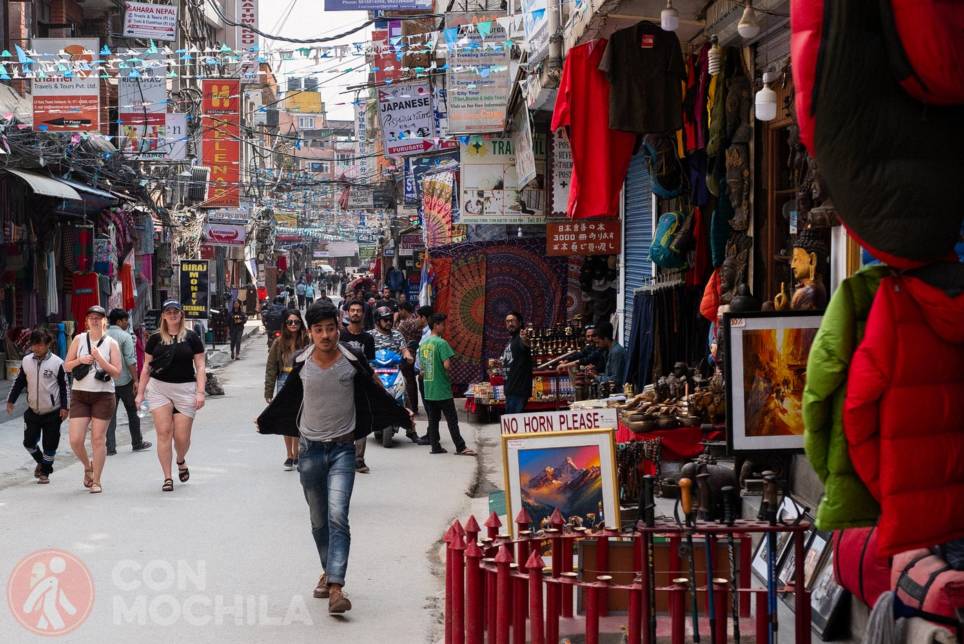 Shops with mountain clothes (most of them fake) you will find a lot of them
So, if something got left out of the backpack, don't worry, you'll find it. And remember the bargaining culture, here too.
You will also find craft shops, curious yak wool accessories, animal that lives in the heights of the Himalayas and whose wool is a good material to resist low temperatures. It is a cashmere wool, light and soft that you will also find at very good prices here.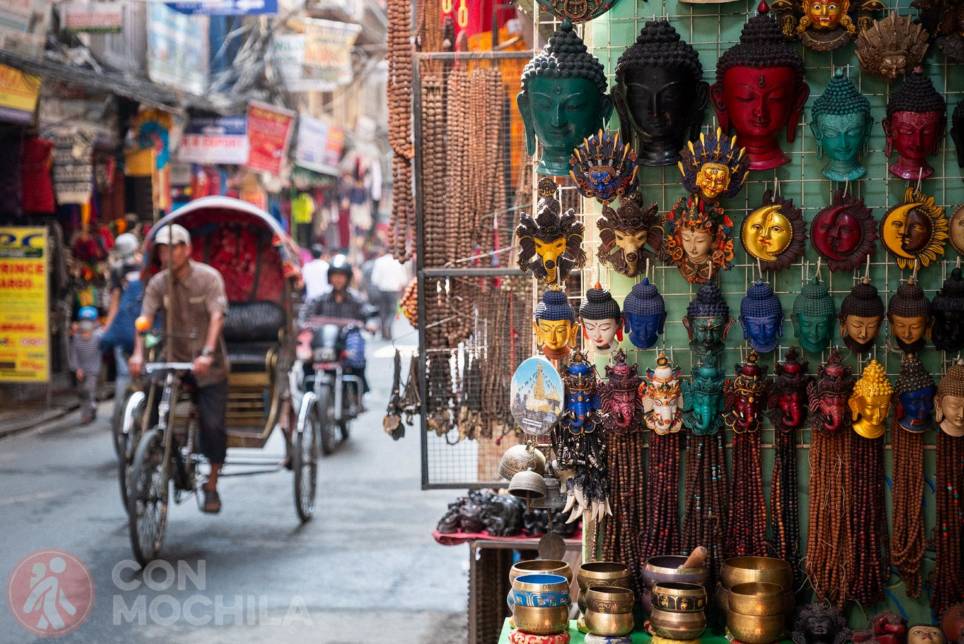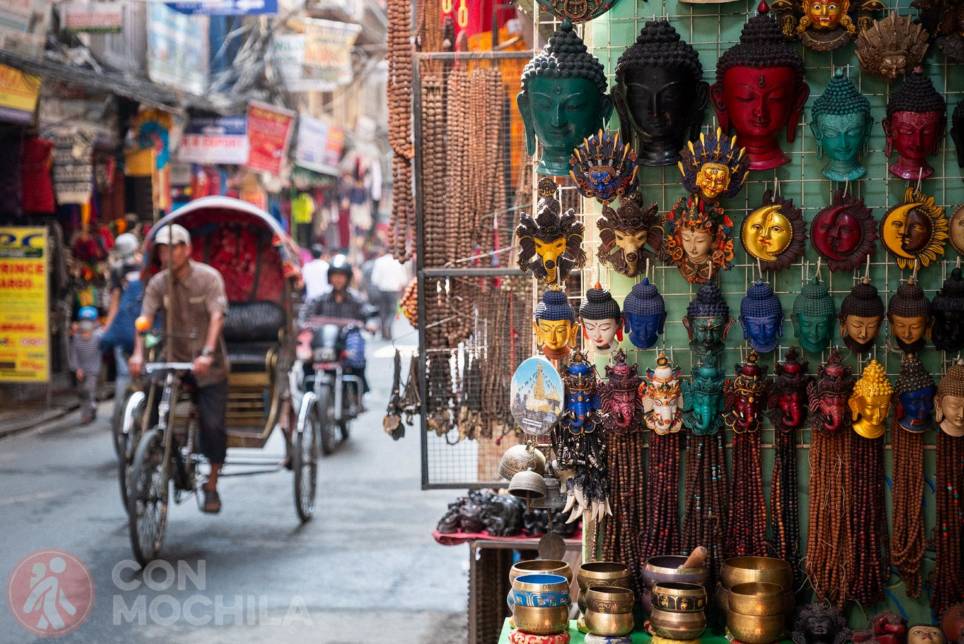 Crafts in all colours, sizes and shapes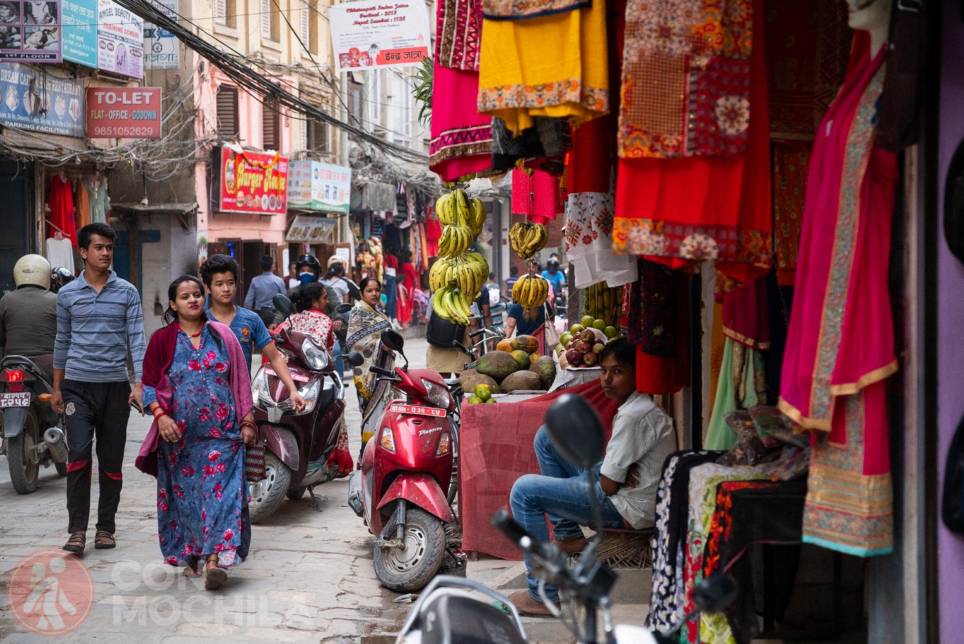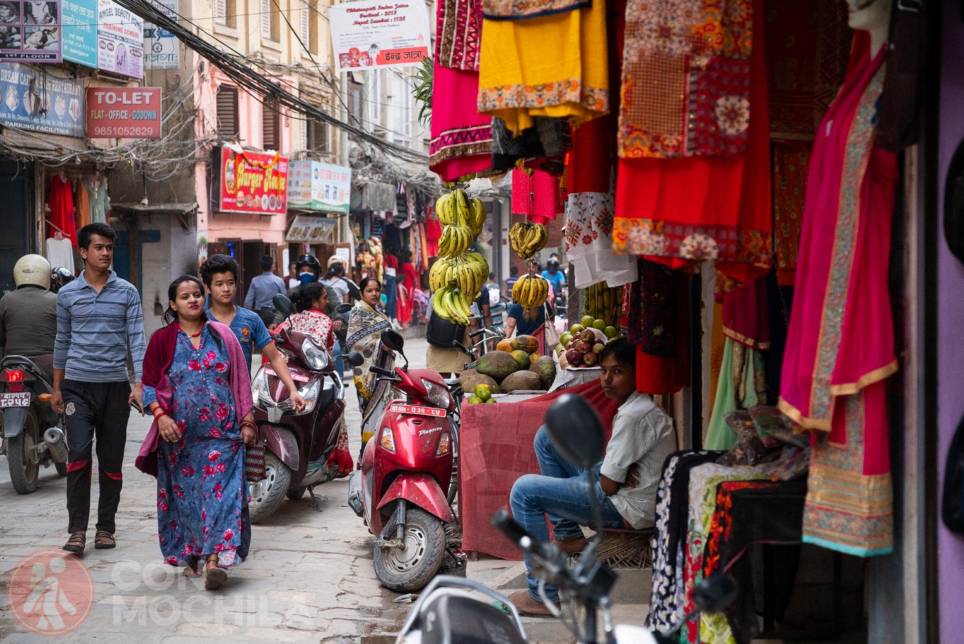 Textiles and all types of shops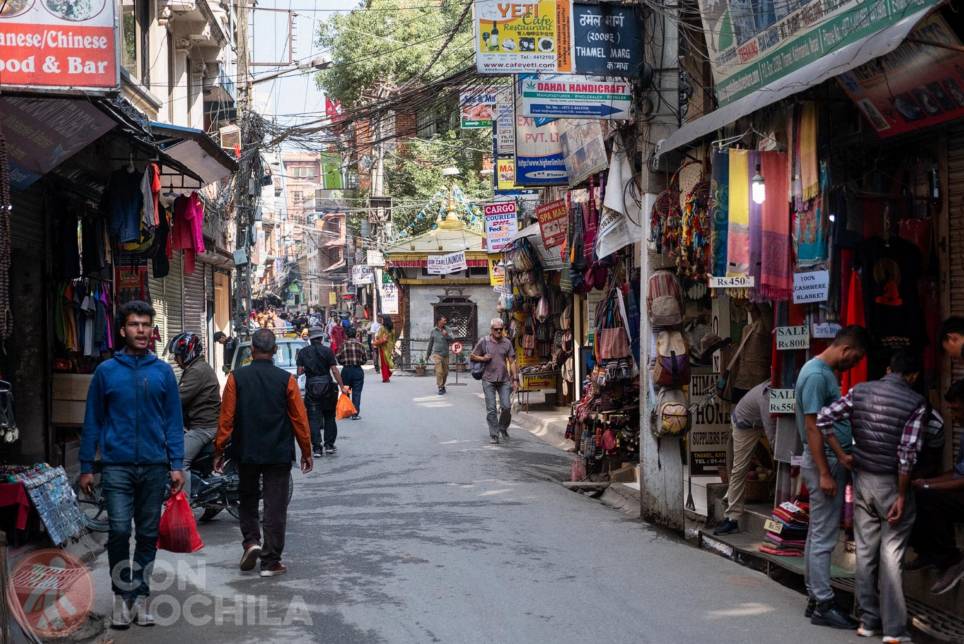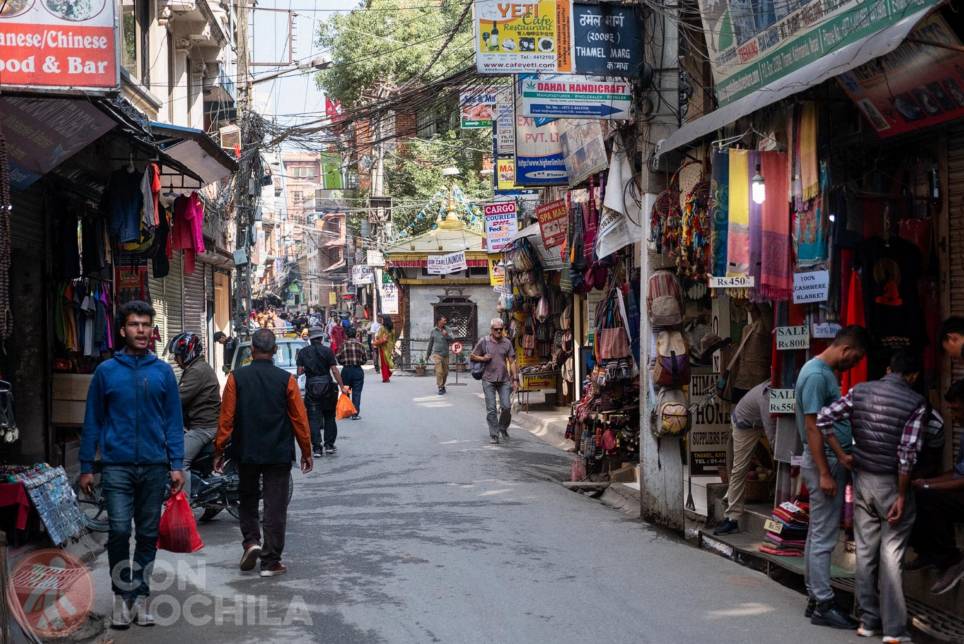 And more and more stores
A hippie neighborhood
Along with the mountain shops and handicrafts, places of clothing and accessories with a certain hippie flavor permeate the neighborhood. This is due to a past seventies in which Thamel was the place chosen by the hippie community in their travels through Nepal within the so-called "hippie route". Undoubtedly a good neighborhood to spend a few days, stroll, visit its restaurants and cafes and take the opportunity to do some shopping and laundry.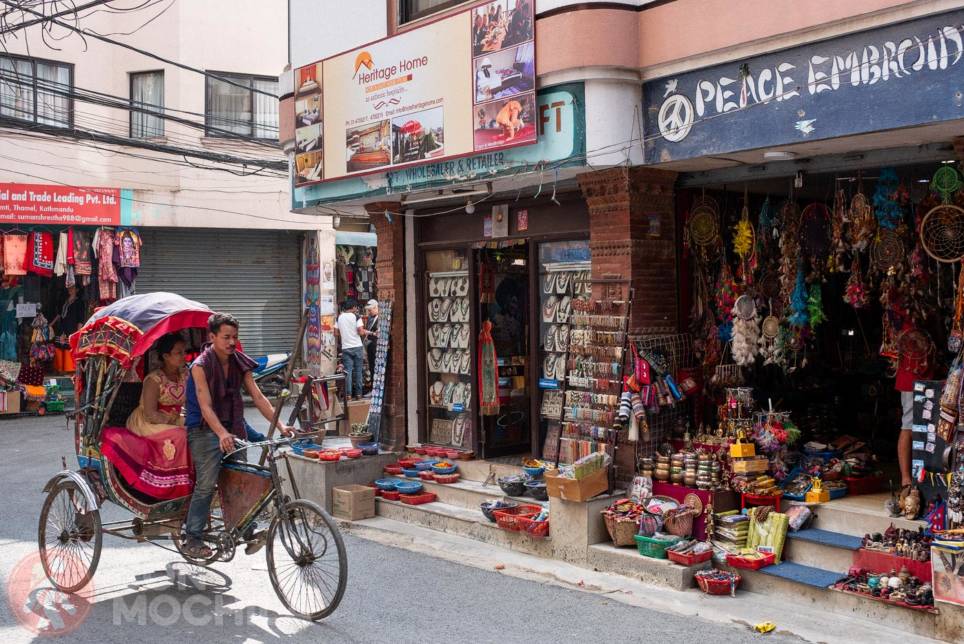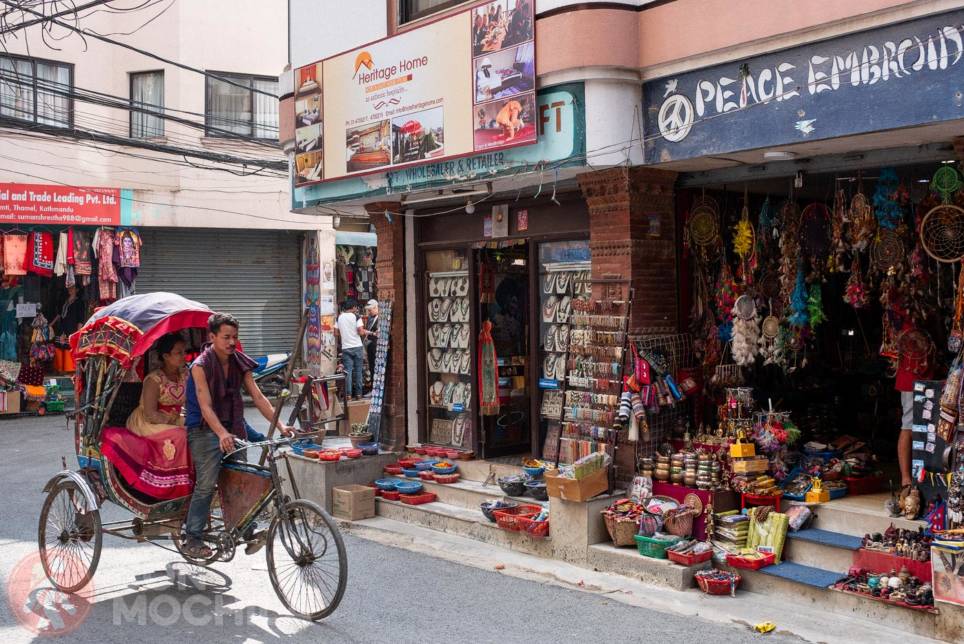 Clothes and hippie crafts
And what to eat…
In Thamel we can find almost everything, from pizza or hamburgers to bolognese pasta that, why not say it, better leave it for Italy. Here we have come to taste the local flavor, and you will find it in the Dal Bhat, a very special combination dish, or the momos, a kind of fried or steamed empanadas, stuffed with vegetables or meat. If you accompany it with one of the local beers, then you will be tasting the local flavor that, we warn you, will be very spicy.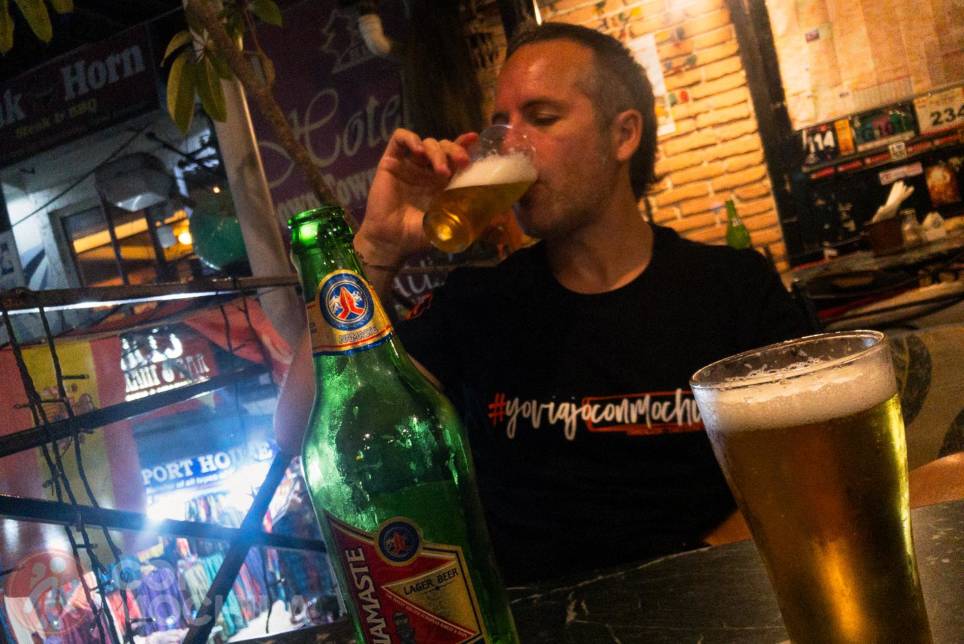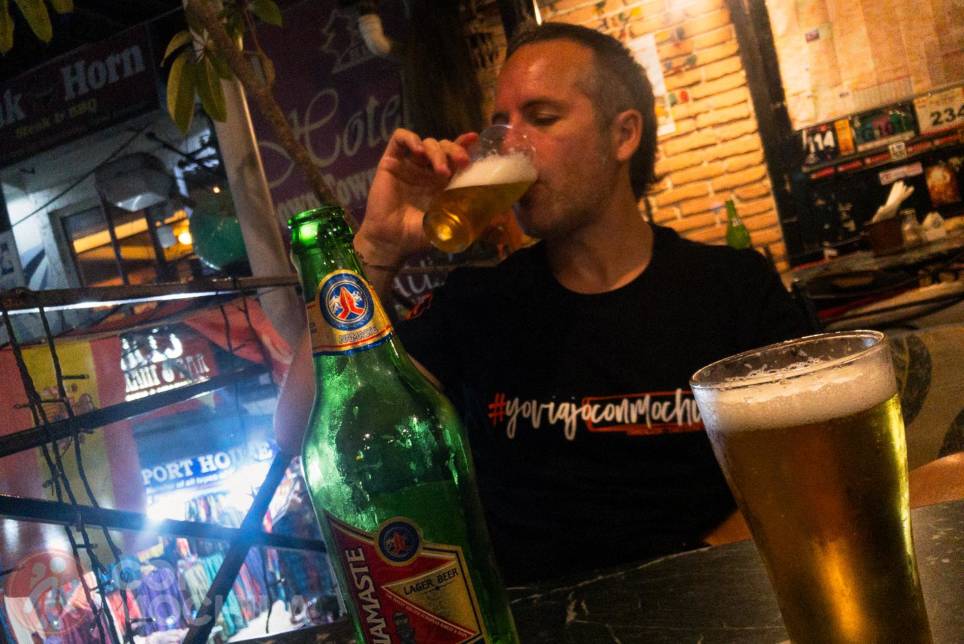 Namaste, a good new local beer
Where to sleep in Thamel?
The accommodations are cheap and almost all have WIFI, something already so necessary for travelers that it becomes essential as a complement to this neighborhood. You will also find some options by airbnb, you will see rooms or apartments in the area at more than reasonable prices. And although you can arrive without booking, as it will not be difficult to find accommodation there directly, you can do so in advance for your peace of mind.
Anything else on Thamel's neighborhood?
Of course I do. For some years now, part of the neighborhood is free of cars, so it will be a little more comfortable to ride through it, although you will not be spared of course of dodging bikes, rickshaws and motorcycles between its labyrinthine streets.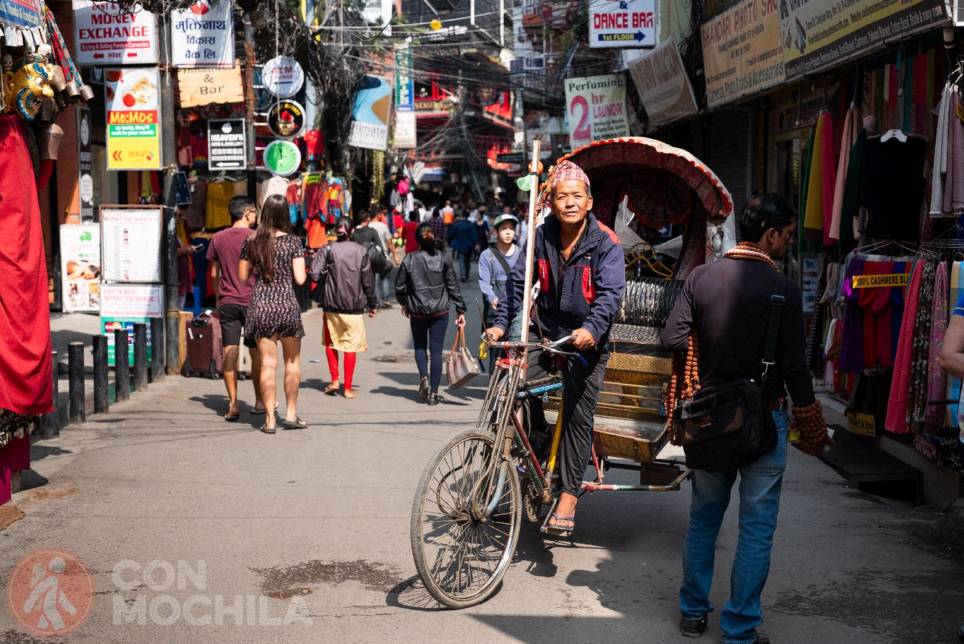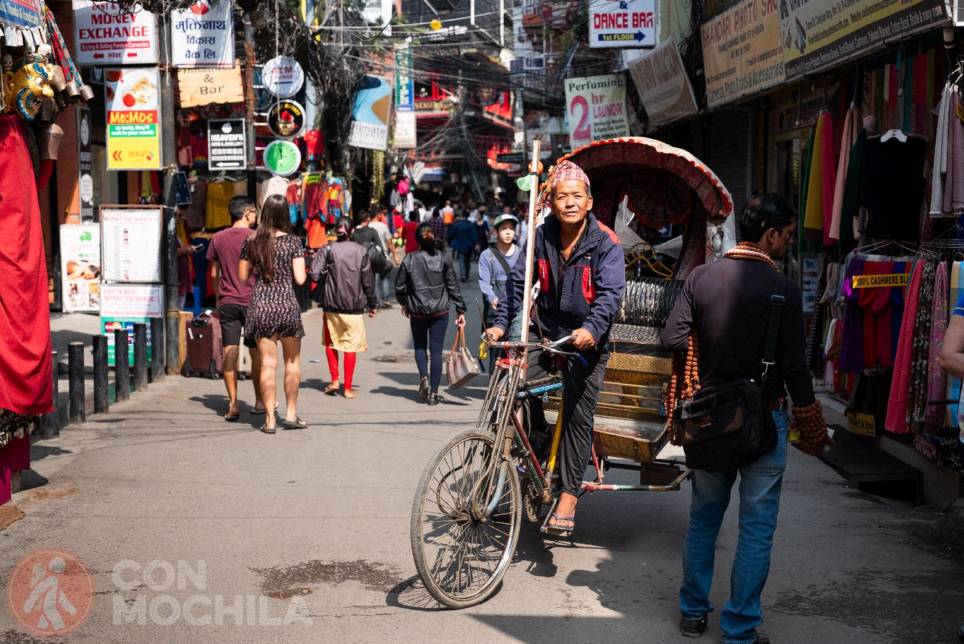 The rickshaws, the new owners of a Thamel without cars
The district of a thousand cables, crossed and intertwined from pole to pole, prayer flags, small temples, the garden of dreams, smells of spices, colours and noises that will suddenly become live music in the multitude of nightclubs offering daily concerts and cool local beer. What more could you ask for before or after crowning the mountains of Nepal?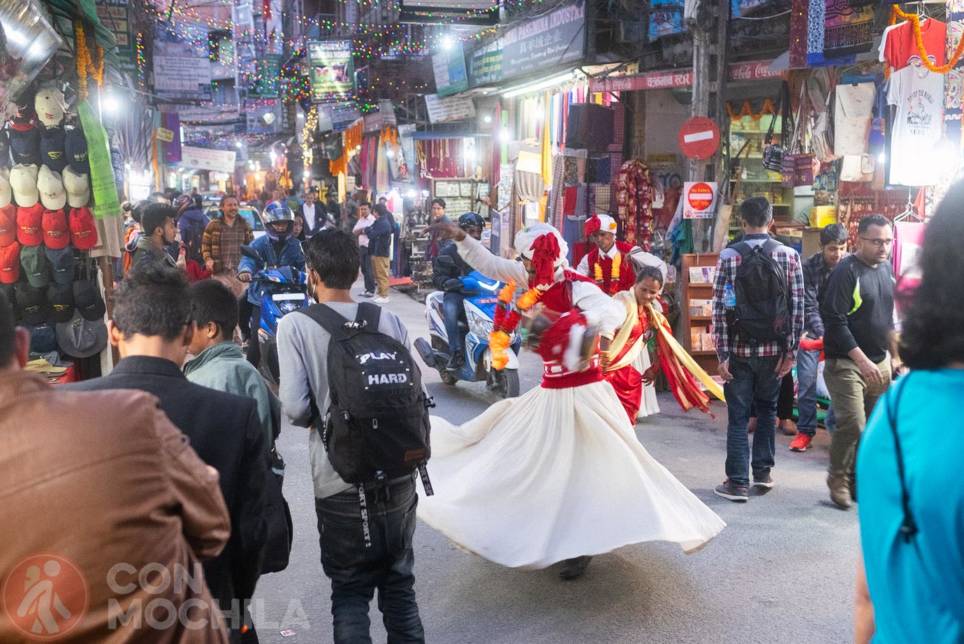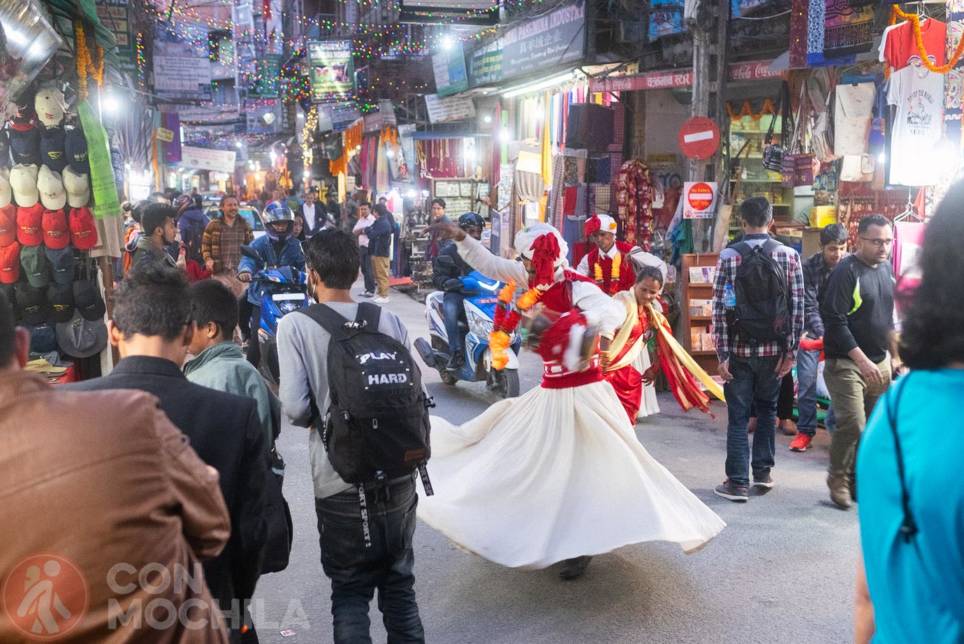 Dances in Thamel during the night
Ah! and if you want to live the neighborhood and the whole city in a very special way, travel during the Tihar (also known as Deepawali) is the second largest festival in Nepal after Dashain and shows reverence not only to the elders and gods, but also to animals such as crows, dogs and cows that have lived for a long time in relation to humans.
People make patterns of Laxmi feet on the floors of living rooms or patios using materials such as colored rice, dry flour, colored sand or flower petals outside their home, which should be a sacred welcoming area for the Gods and Goddesses of Hinduism, mainly Goddess Laxmi.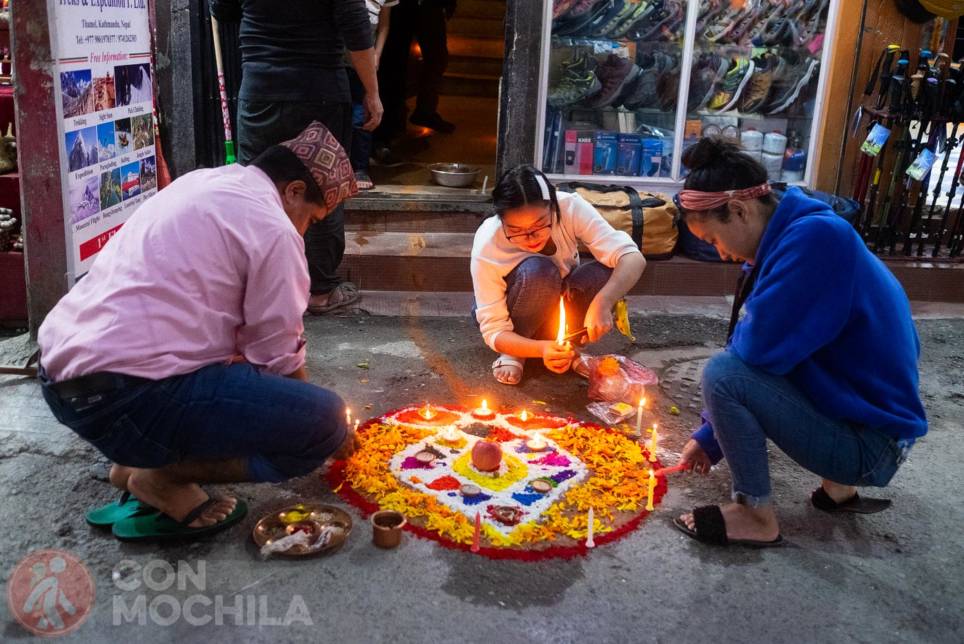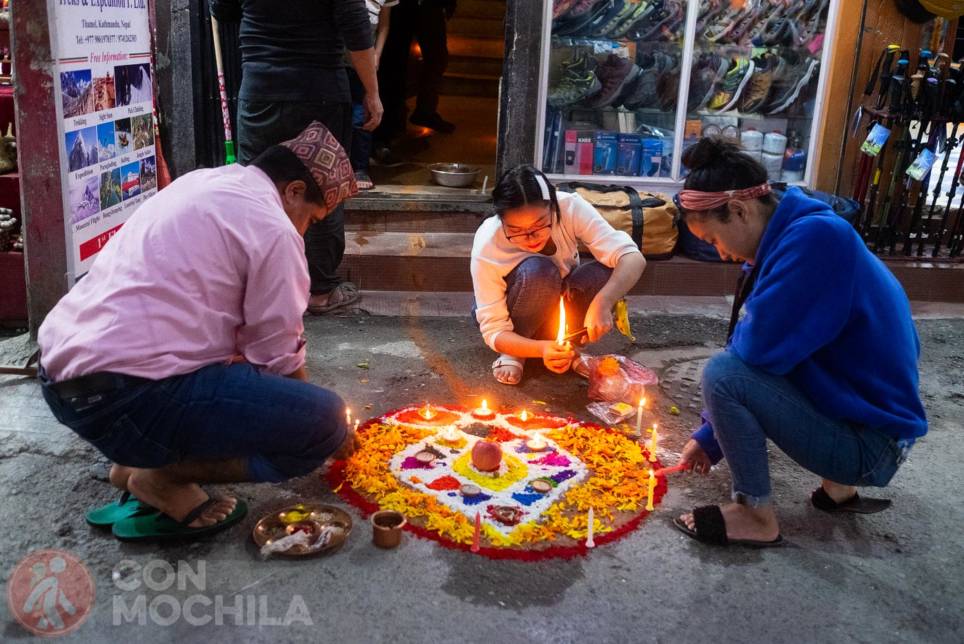 Painting the floors with rice and coloured sand during the Deepawali in Thamel
However, if you want to go on those dates, book early, there is more demand and also many public entities and agencies close during those dates. Plan well.
Location