Review of the travel itinerary to the Philippines: Between January and May 2018 we set out on a trip to Southeast Asia. Four months that would give a lot of themselves. The conmochila guides were especially useful in preparing our itineraries and organizing us. Then, we took more autonomy…..
We had already opened in Southeast Asia before, and had visited Thailand in 2013 and, in 2016, Vietnam and Siem Reap (in Cambodia), so the desire to continue exploring this corner of the world was enormous. Its traditions, gastronomy, people, history, even the political situation of each one…
The experience was enormous, and exceeded all our expectations. We were left with a lot to see, but what we saw filled us so much! So much diversity and contrast, not only with our house, but between all the countries we visit…
This was the total route we followed in Qatar: 2 days. Myanmar: 21 days. Laos: 17 days. Malaysia and Singapore: 24 days. Indonesia: 30 days Philippines: 28 days.
The Philippines was farewell, the last month of travel. The ancient terraces of Banaue left us speechless. The small and beautiful city of Vigan and its colonial houses pleasantly surprised us as we began to see that the Philippines is the "Latin" corner of Asia. A bit of route between islands of the Bisayas, Dumaguete in Negros and the small island of Apo, and its sea turtles. Siquijor and its power of attraction (which made us stay two days longer than planned, discarding Bohol from our plans). And the final finish of the Nest, in Palawan, which was the best finish we could expect from our four months in circles. With the pleasant epilogue of the Manila of Intramuros as a farewell day.
Travellers: Tatiana i Rubèn
Budget
Web: https://viatjarambelsulls.blogspot.com/p/filipines.html
Departure date: 17/03/2018 – Return dates: 16/04/2018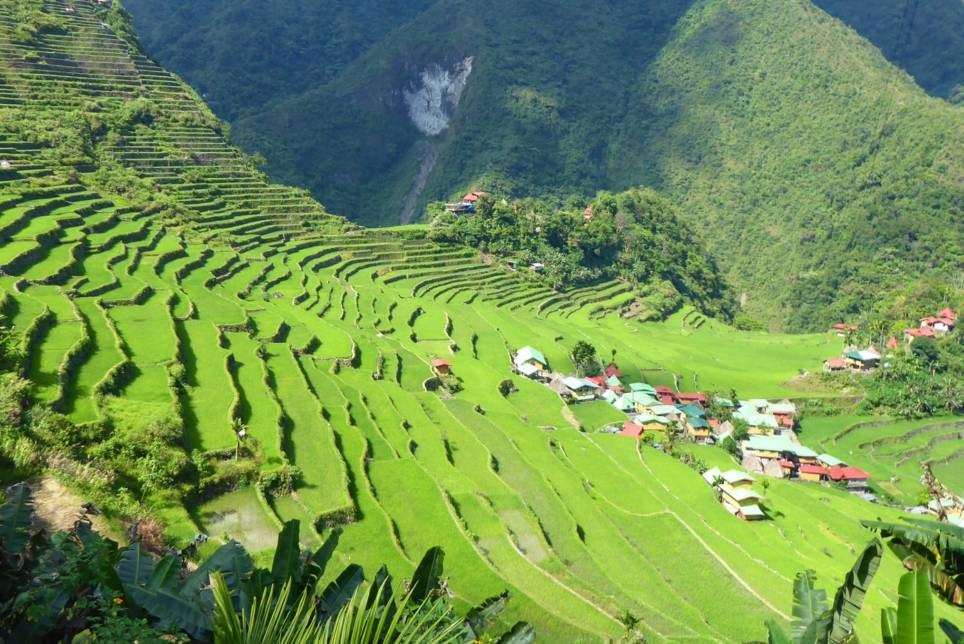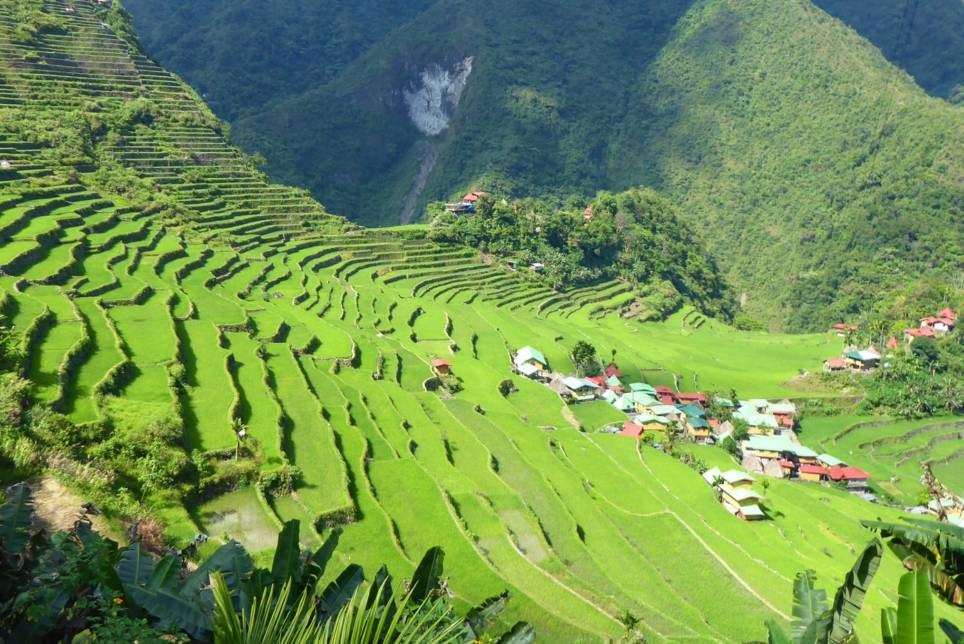 Rice terraces in Batad
Travel Itinerary to the Philippines
Day 1Arrival in Manila at dawn. Accommodation and rest in guesthouse. Night: Bus to BanaueDay 2Banaue. Arrival very early in the morning. Rest and walk through the village. 3 day Trekking rice terraces. Banaue – Cambulo. Guide. Jeff Gano.Day 4Trekking Rice Terraces. Cambulo – Batad (waterfall in the afternoon)Day 5Trekking rice terraces. Batad – Banaue. Arrival in Banaue at lunch time. Afternoon: Bus Banaue – Baguio – Vigan.Day 6Vigan (arrival at lunch time). Rest and visit.Day 7ViganDay 8Bus trip Vigan – Manila. All day long. Accommodation in Manila.Day 9Flight Manila – Dumaguete (Sibulan Airport) on the island of Negros. Boat Sibulan – Liloan (Cebu island) and bus to Oslob.Day 10Oslob. Whale Sharks (AFTER GOING, WE RECOMMEND NOT TO DO THIS ACTIVITY. More info: https://www.conmochila.com/snorkel-responsable-no-metas-la-aleta) and waterfalls (the waterfalls are beautiful). Noon, return to Dumaguete. Afternoon by Dumaguete, find a way to go to Apo.Day 11Dumaguete, snorkel at Apo Island. Company: Harold's Mansion.Day 12Travel by boat Dumaguete – Siquijor arrival at lunchtime.Day 13-16Siquijor (we aborted going to Bohol to stay more days in Siquijor).Day 17Travel by boat Siquijor – Dumaguete. Ship Siloan (Black) – Liloan (Cebu). Bus from Liloan to Cebu City. Arrival during the afternoon. Afternoon visit – night in Cebu (Fort Sant Pedro, Santo Niño Basilica).Day 18Flight Cebu – Puerto Princesa (Palawan Island). Arrival at noon. Return to the village. Day 19Puerto Princesa. Visit Underground River.Day 20Trip in Puerto Princesa van – El Nido (arrival in the afternoon).Day 21El Nido, Nacpan beach.Day 22El Nido (tour C)Day 23El Nido (tour A)Day 24El Nido. Playa de las Cabañas Beach.25 Day Trip El Nido – Puerto Princesa. Arrival in the afternoon. 26th dayFlight Puerto Princesa – Manila. Arrival end of tomorrow. Rest, Rizal Park…Day 27Manila. Intramuros Visit. Night: Flight Manila – Doha – Barcelona.Day 28Arrival in Barcelona
SEND US YOUR TRAVEL ITINERARY!!!
Route map