If you've come this far, it's because you want to know if Koh Samet is really worth it, so to put yourself in the picture and understand our opinion let me tell you something first.
Of all the things you can do on a trip, like the vast majority of mortals, visiting beaches and islands is one of our favorites. We like landscapes full of palm trees and enjoy drinking their coconuts while hanging from any hammock. And if we talk about the underwater world, we can spend hours underwater snorkeling hypnotized by any coral reef.
If you have consulted any of our guides you will have seen that, in any country that has a coast, we have gone there. And of all the islands we have visited, the ones we like the most are the lonely ones, at least the ones with beaches where you can escape from the hustle and bustle.
However, in our travels through Southeast Asia we have at times, very few in fact, encountered a fate that, despite our love for the beach, has caused us to flee. One of those places is Koh Samet, which we came to tell you about today.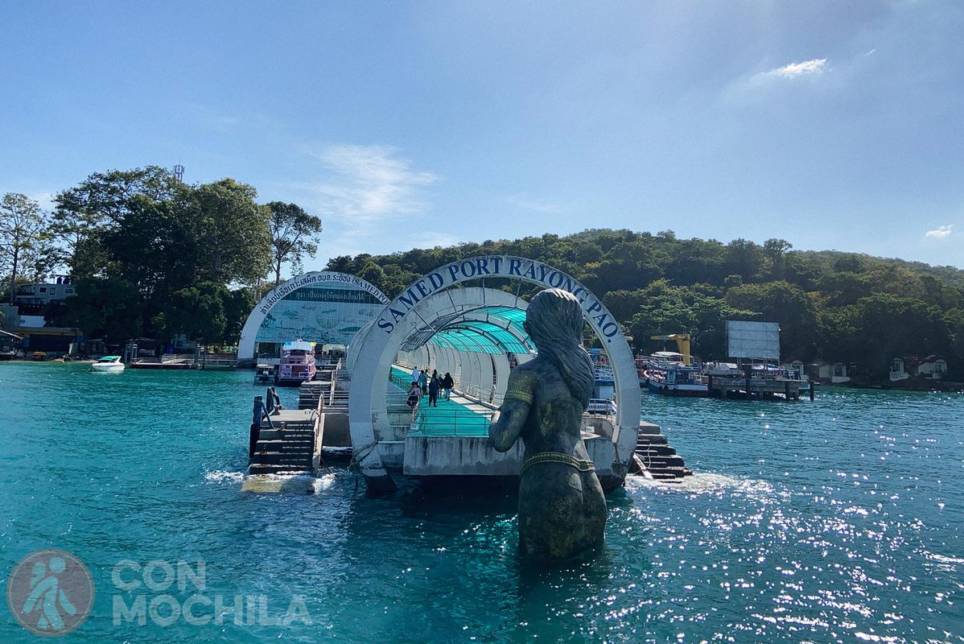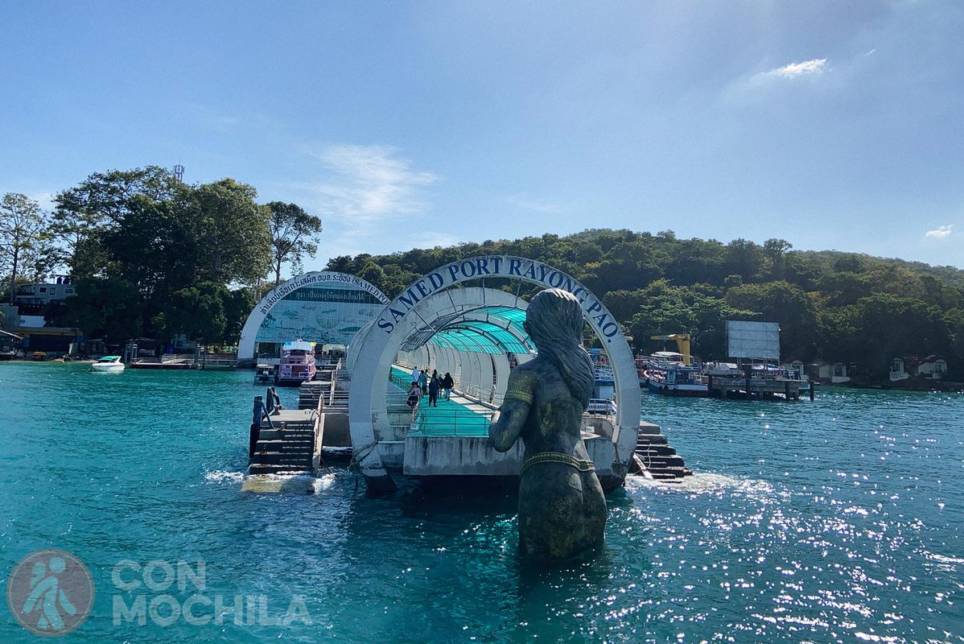 "Welcome" to Koh Samet
We arrived in Koh Samet after a few idyllic and quiet days on the islands of Koh Chang and Koh Kood, where, after having visited many destinations in Thailand, we were impressed with the kindness of the people and the peace of the place. We were travelling with some friends who were finishing their holidays in the capital in a few days and we thought, "well, it's just passing through, so let's visit another island". Maybe that's why, because of the contrast, he pushed us back from the first moment.
And so we went to the famous beach in Bangkok where, they say, people run away from the capital when they need to escape from the chaotic and sometimes stressful city, but is it really worth it?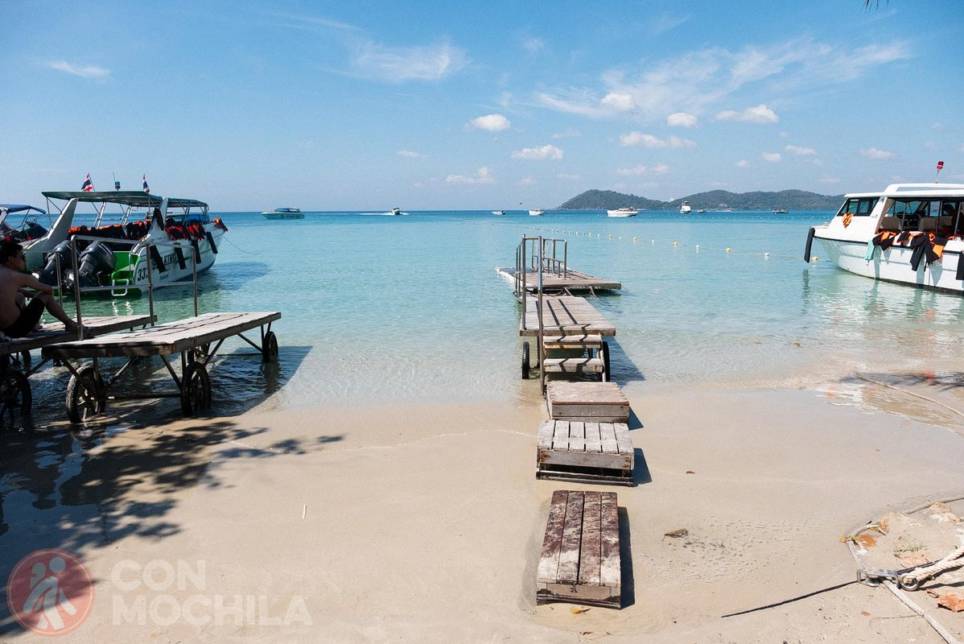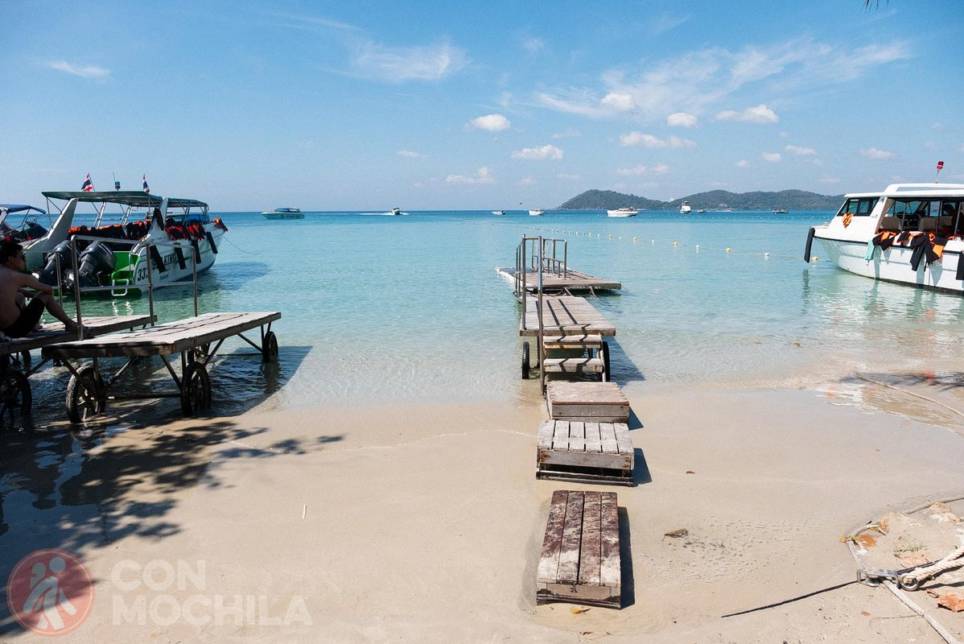 The colour of water by Koh Samet
Koh Samet, is it worth it?
The island of Koh Samet is quite small and is located about four hours from Bangkok and, to be honest, we will say that it is very beautiful, with beaches of turquoise water and some viewpoint where you can see the neighboring islands. With a rented motorbike you can ride it from end to end, stopping on its beaches at a leisurely pace. The problem for us is the type of tourism that has been targeted or, to put it another way, the way it has been exploited.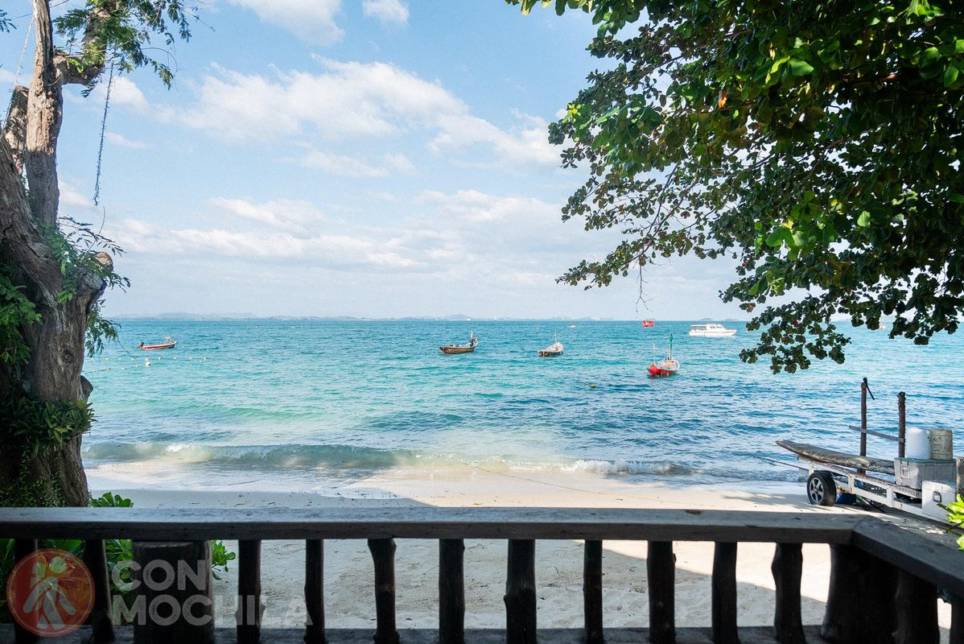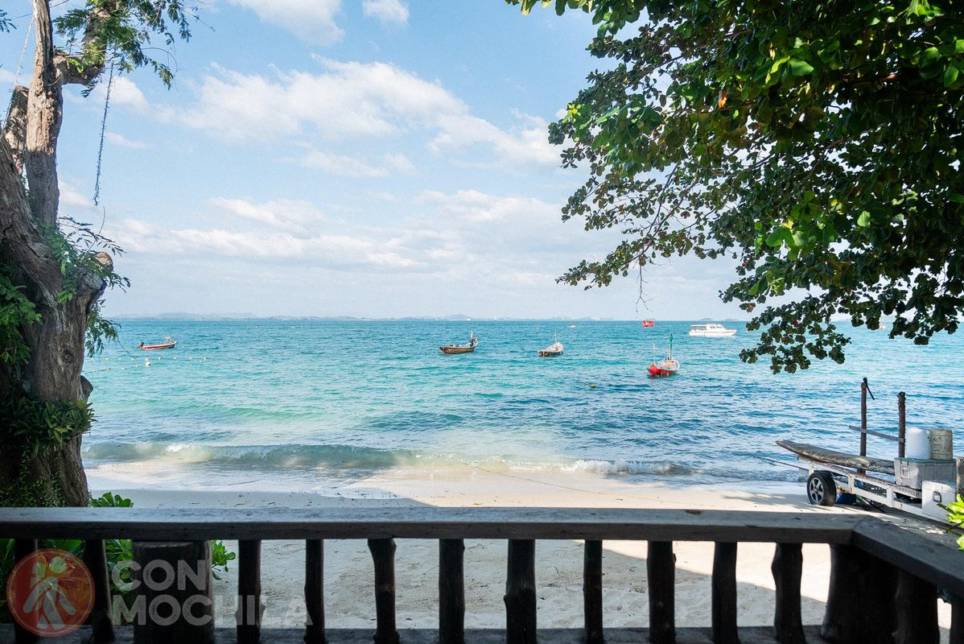 Pretty is it.
Resorts have been built right on the beach, and it is sometimes difficult to distinguish where the asphalt ends and the sand begins. It doesn't end there because, in addition to literally eating up the beach, some of these hotels prevent those of us not staying there from enjoying their stretch of sand. It happened to us on the beach in Ao Prao, where they didn't even let us use the sun beds that occupied the whole place, nor did they make us have a drink, forcing us to sit at the dining room tables? What would they think we were wearing a bikini for? Anyway…
Busy
Frustrated after a first attempt to get close to the water and after drinking a coconut that was too hot for the price we had paid, we decided to go to one of the extremes where there was no resort with total exclusivity.
As you can see in the photos the beach is beautiful, but where there are no hotels there is no sand to sit on either, and it is also where many of the boats of the boat trips stop for lunch, so you can imagine how many people can pile up at certain hours of the day.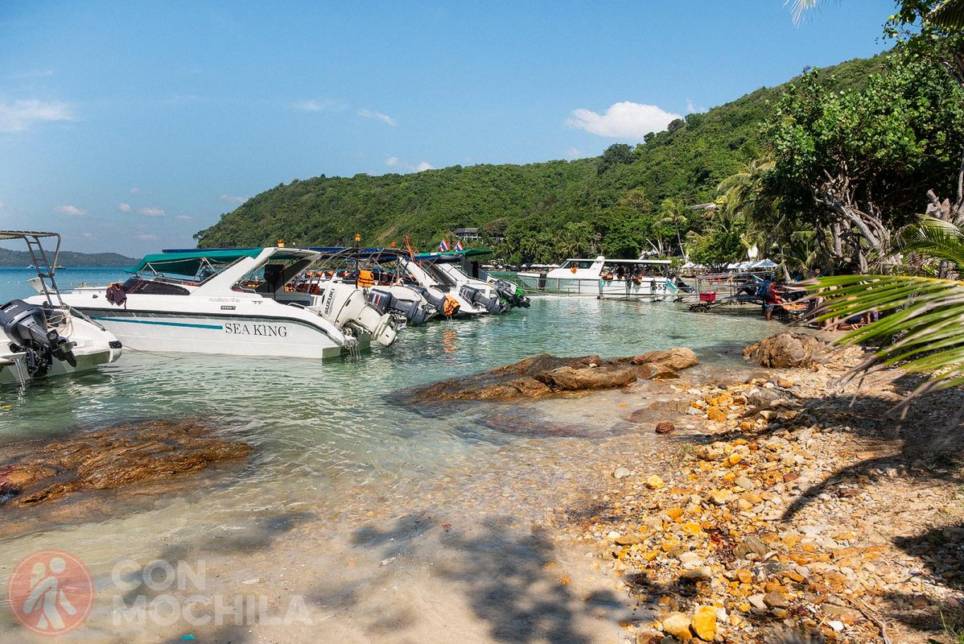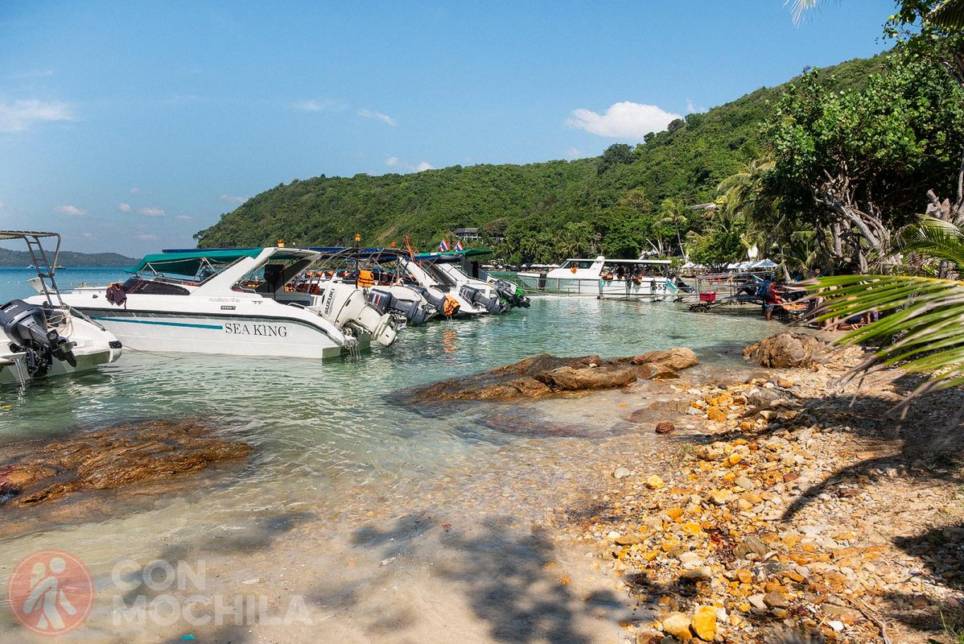 Rush hour in Ao Prao
Por otra parte las playas del este son muy bonitas, algunas de ellas con un agua azul turquesa hipnótico. En honor a la verdad, puede que parte de nuestra decepción se amplificara por el viento que hacía esos días, no dejándonos apreciar completamente la verdadera belleza de algunas de sus mejores playas. Pero vamos, es difícil disfrutar de un lugar cuando no hay manera de encontrar un rincón en el que extender la toalla y resulta incómodo tener que ir atravesando resorts para llegar al agua, sobretodo para alguien que busca un rinconcito solitario.
To top it off, it's very expensive. I remember stopping at a restaurant in front of Had Sai Kaew and not being able to get out of my astonishment at the price of the padthai: 280 baht would it take caviar? Eating at Koh Samet restaurants means doubling the budget. Needless to say, accommodation prices are much higher than in other parts of Thailand… If you are looking for a cheap island, this is definitely not it.
I think it's clear that, after our experience, it's very unlikely that we'll return to Koh Samet, but for colour. I am also aware that, after many years of wandering around South-East Asia, we have seen many beaches and, in our head, the ideal one is the one with the best of our favourites and that is impossible to find one day, especially with the pace of construction and destruction that human beings carry out.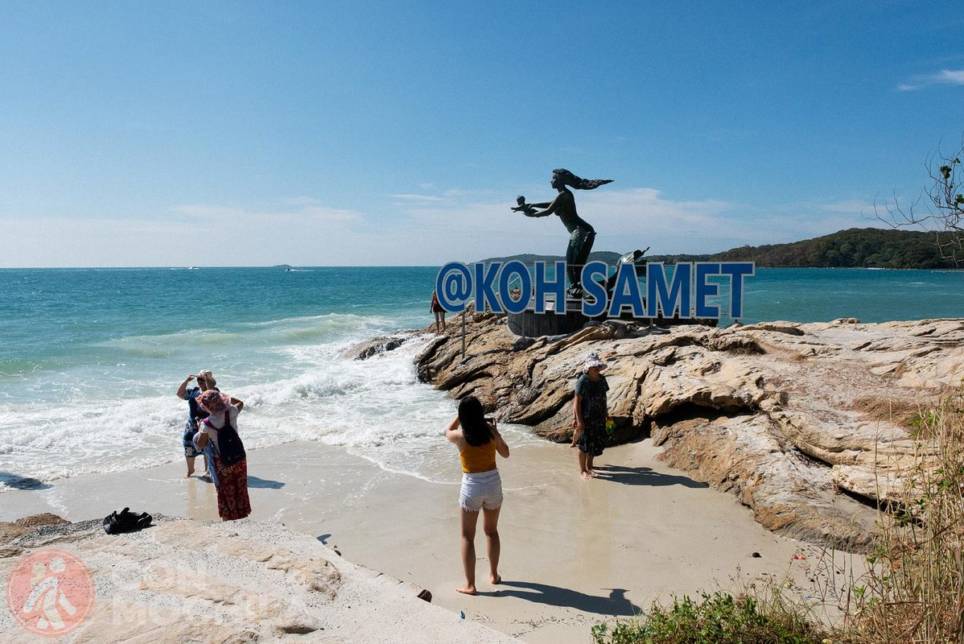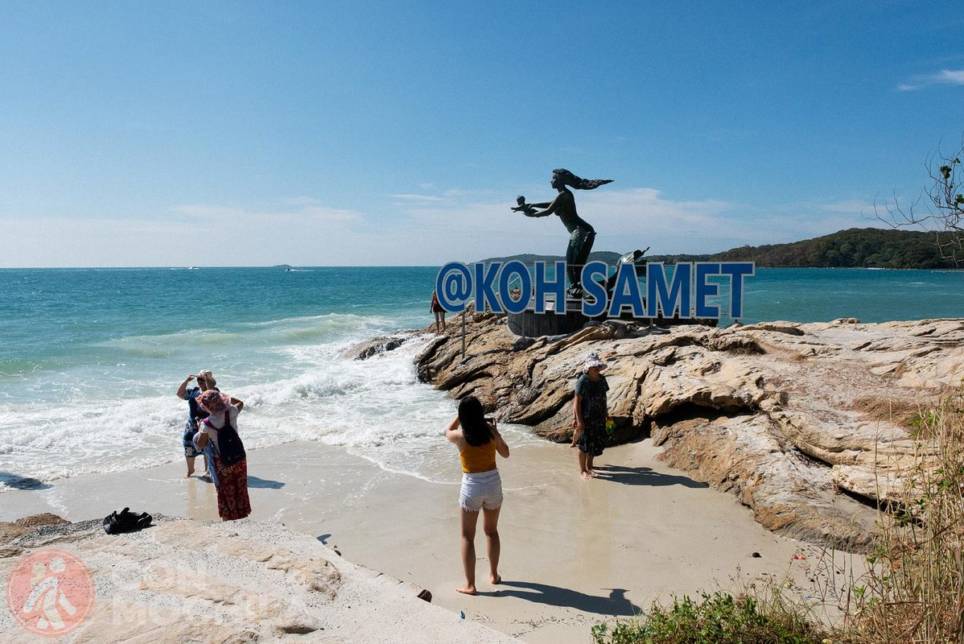 Koh Samet is not our dream island
In your favour I will say that it is clean, as we did not see the indecent amount of rubbish that you encounter in other areas and, moreover, we found posters asking that no plastic bags or FOAM containers be used. But we already know that the worse things change very quickly… let's hope not!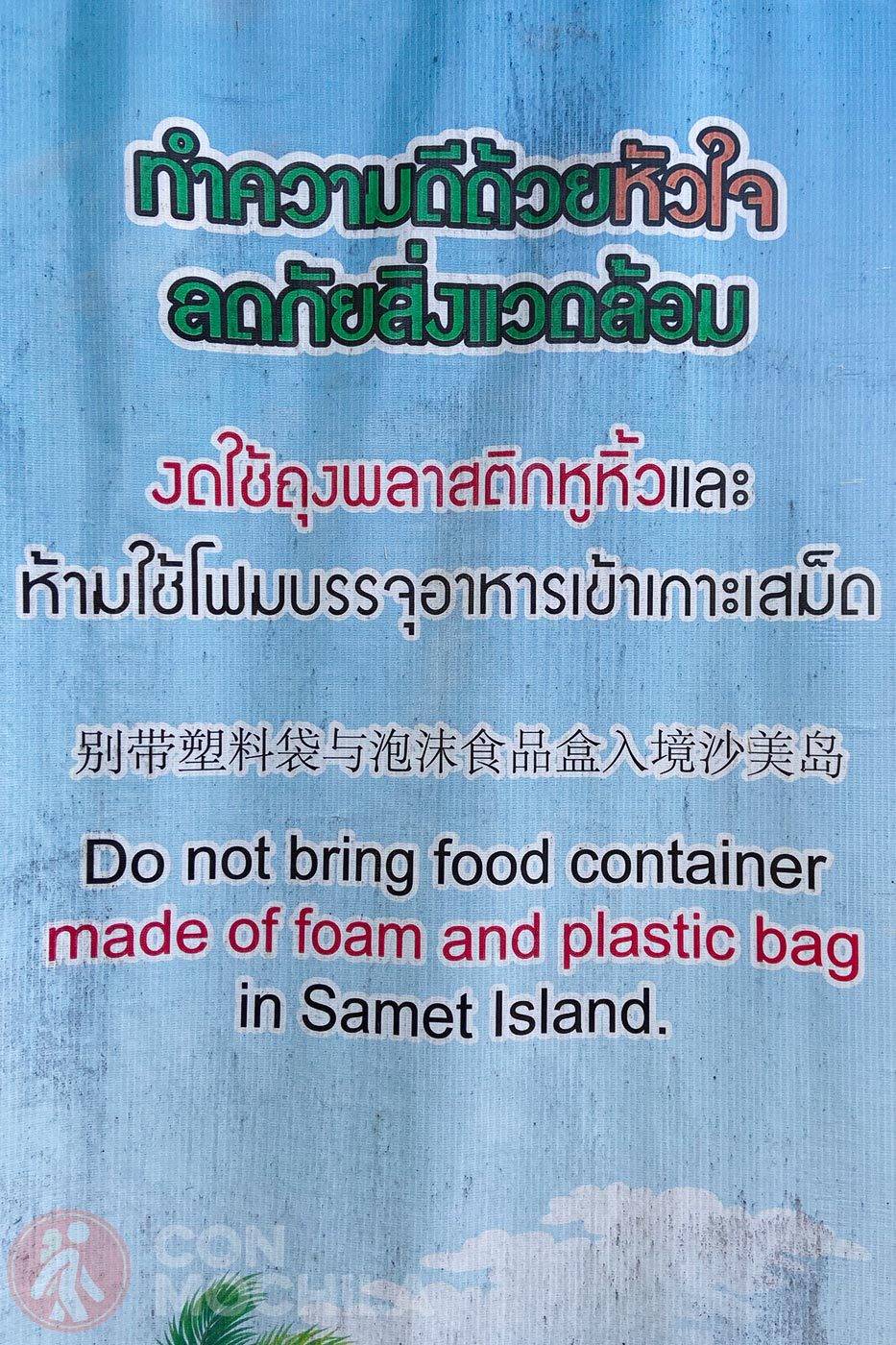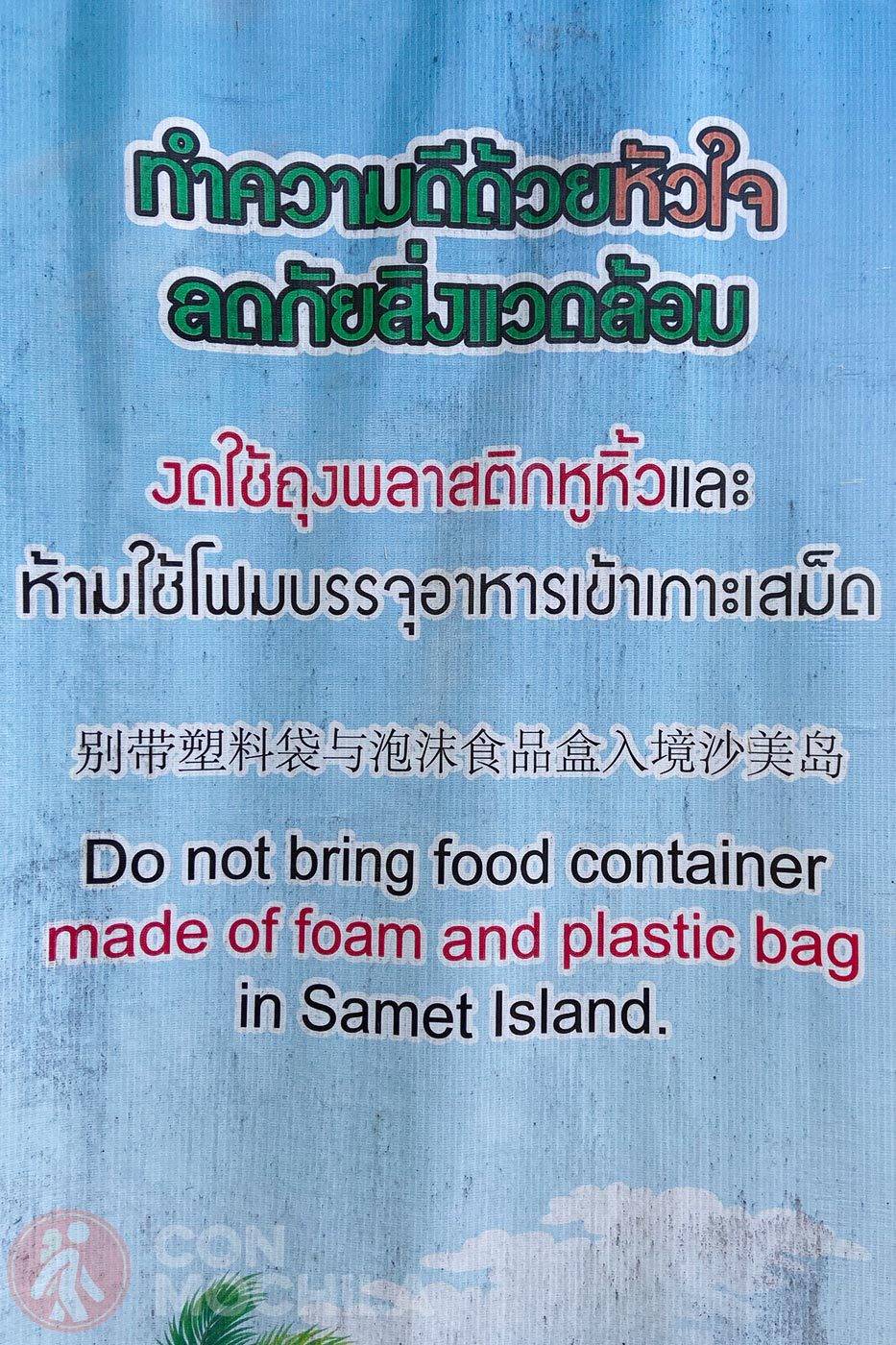 Good for Koh Samet
But what's on Koh Samet?
So what is it about Koh Samet that brings so many people from Bangkok? For although the main reason is the short distance that separates them compared to the rest of the islands, as I said before, the island has its beauty.
If you're the type of person who doesn't run away from crowds and your idea of a beach includes a front line resort, a few beers and some lounge chairs to hang out in, then Koh Samet won't choke on you like we do and you'll enjoy it properly.
Since we didn't want to leave without at least giving it a chance, we went around the island and took a few pictures. Not to mention that we didn't try!
Let's see, we wouldn't recommend it to friends who we know have tastes similar to ours, but neither was it a drama to have to spend a couple of days there. So as not to be unfair, we show you the beaches and you judge for yourself.
Had Sai Kaew
The busiest beach is Had Sai Kaew, in the northeast. When you get there you pay the National Park entrance fee which is valid for several days and the whole island (200THB). However, despite the name of the ticket, the first thing you find is an asphalt street full of shops that you have to cross if you want to get to the beach. There you will find many people, especially groups taking pictures in the sand. We can tell you a little more because there we lasted as long as it took us to take some pictures.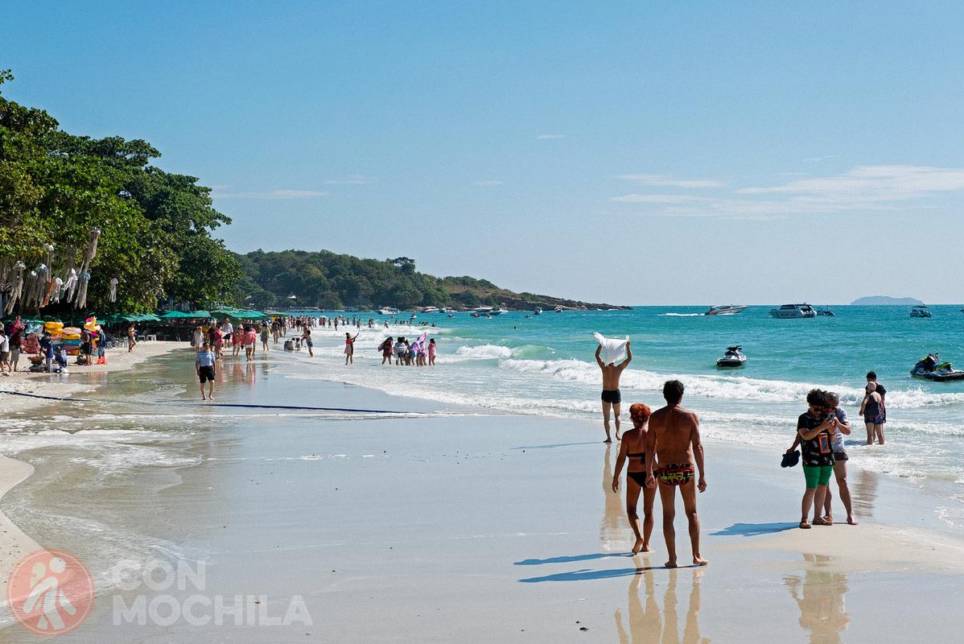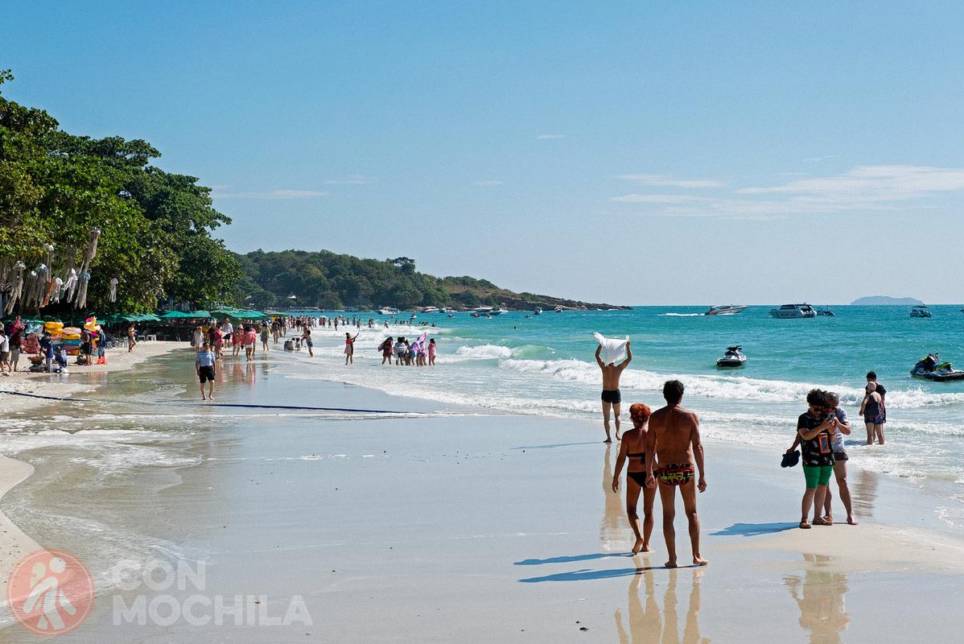 Had Sai Kaew
Ao wai
Ao wai seemed to me to be one of the most beautiful because of the color of its water, even though the current and the waves that day did not invite you to come in for a swim. But less than the wind, what we didn't like at all was having to go inside a resort to get to it, so after a very quick dip we left.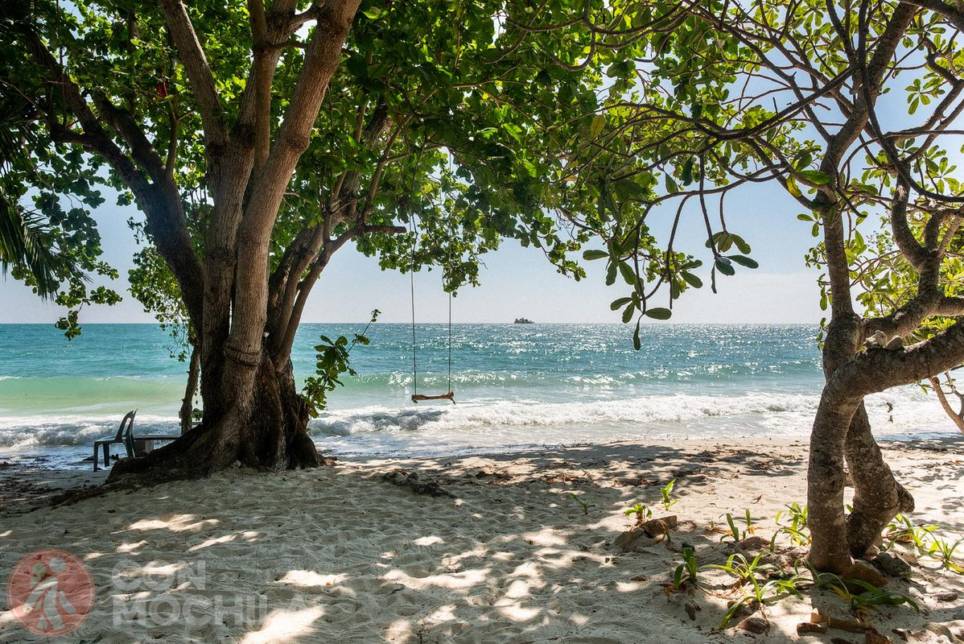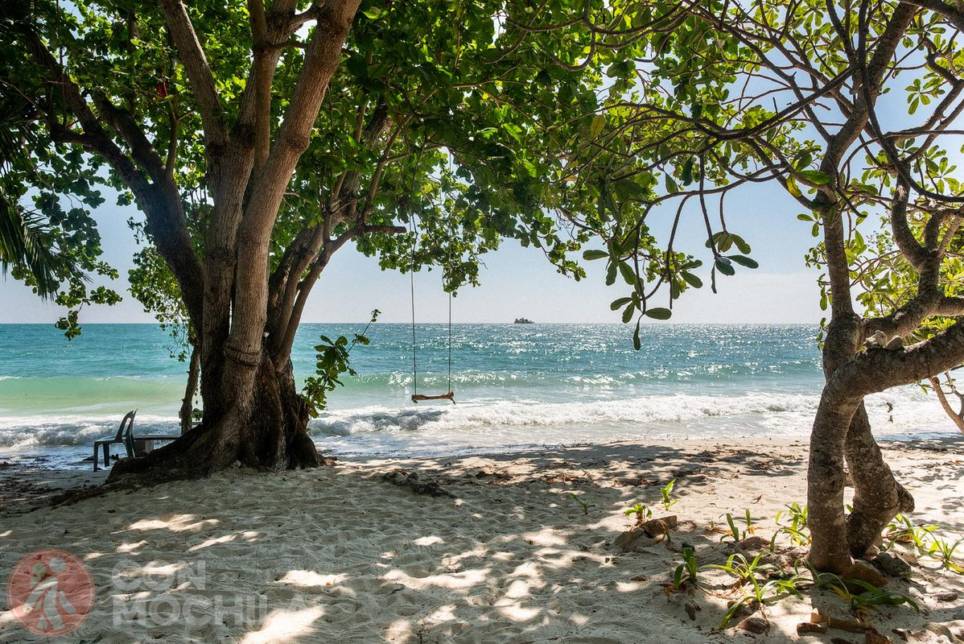 Ao wai
Looking at photos of this beach on the Internet and comparing them with ours, I think the problem was that, due to the current, the tide was very high and forced you to be practically in the resort. A pity not to see this part of the island on a day with less wind, because it has to be really beautiful.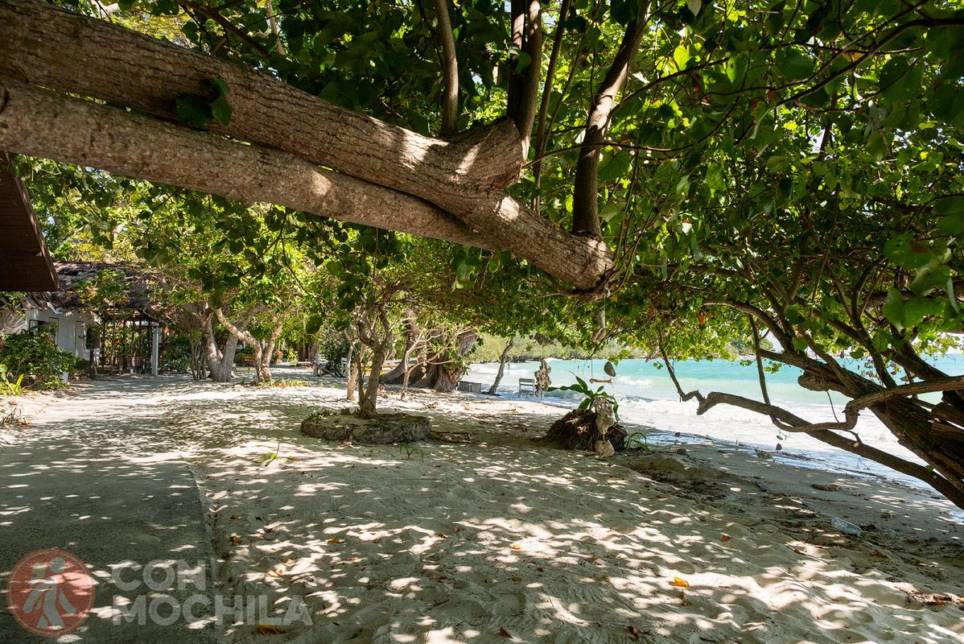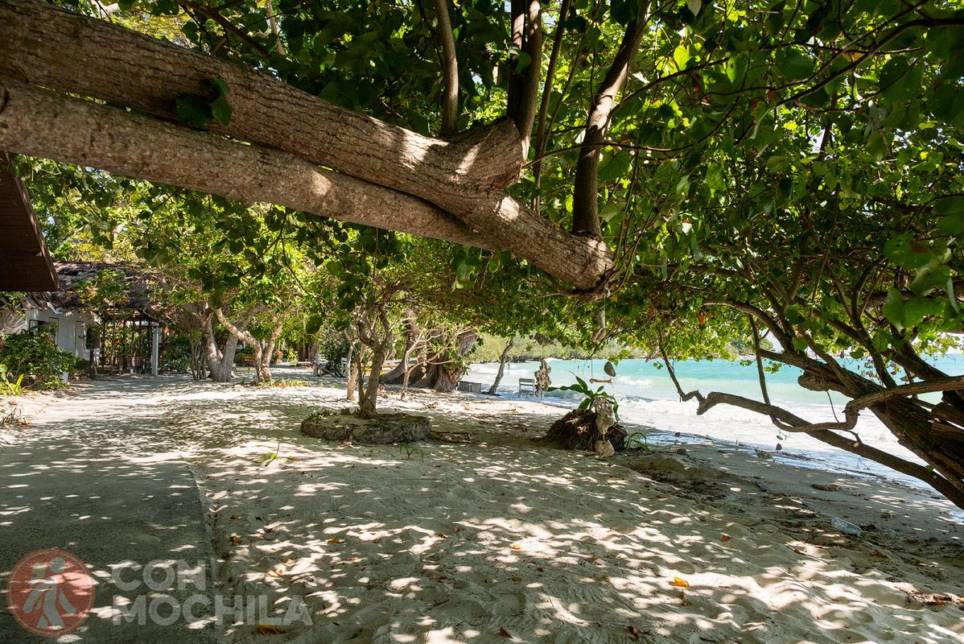 One of the most beautiful beaches on Koh Samet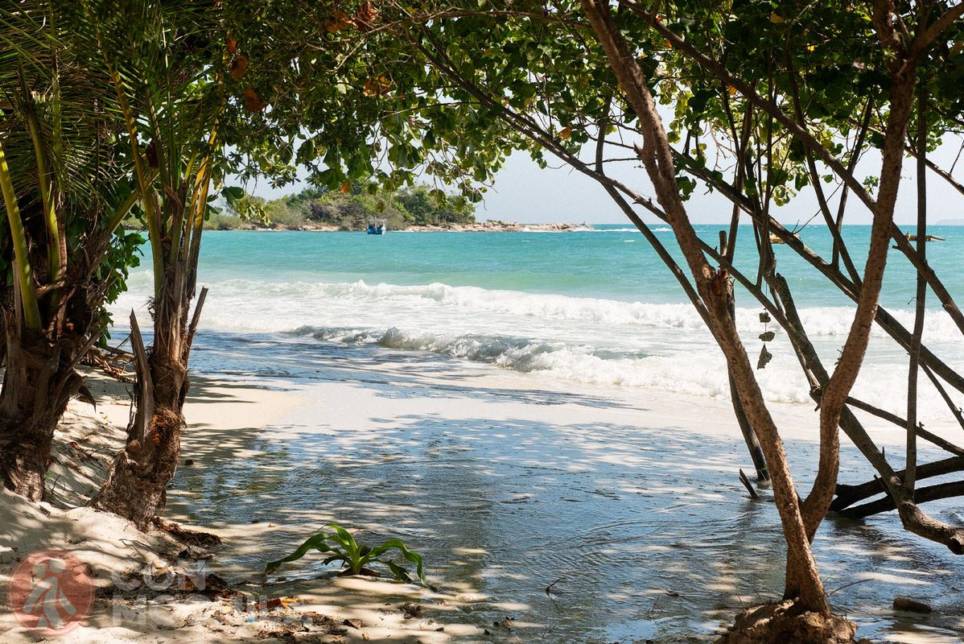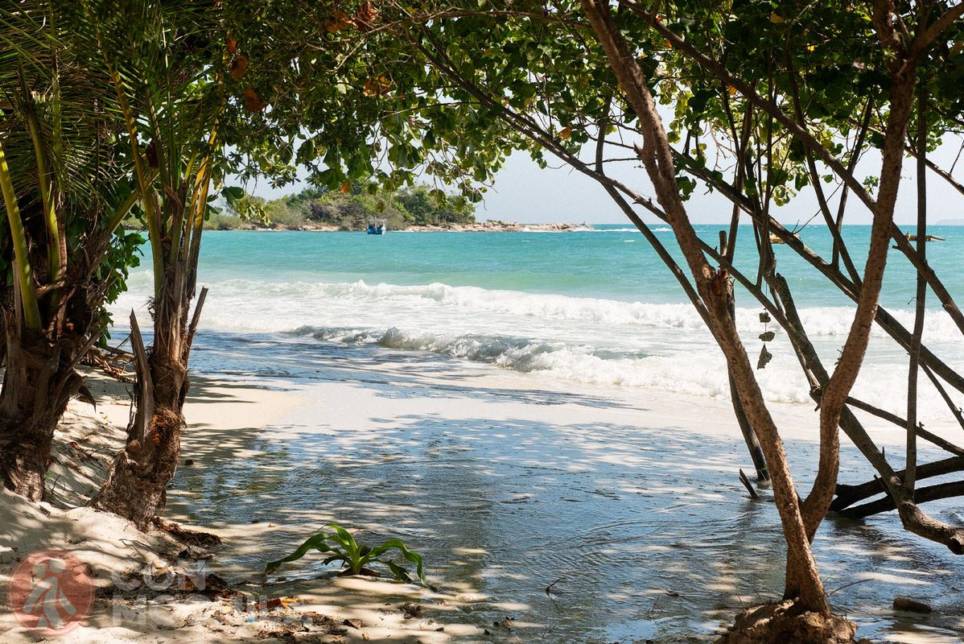 Despite the waves
Ao kiu na nok
In Ao kiu na nok we stopped out of curiosity and because we were passing by, but the sea was so rough and the sand so full of foam that we ran somewhere else. The only picture we have is this one and the feeling we get is similar to the previous one, for sure with the sea being calm it must gain a lot.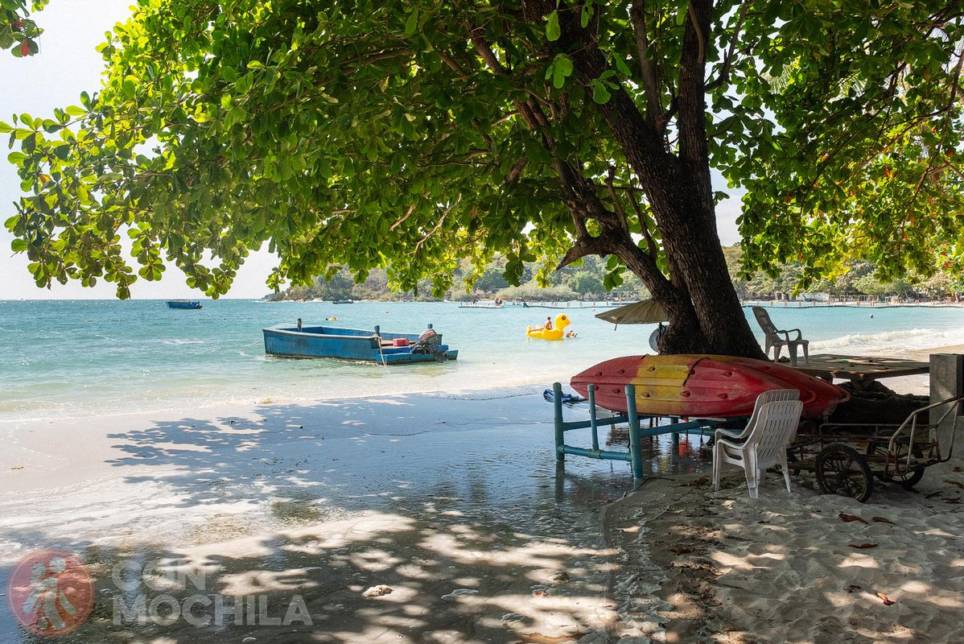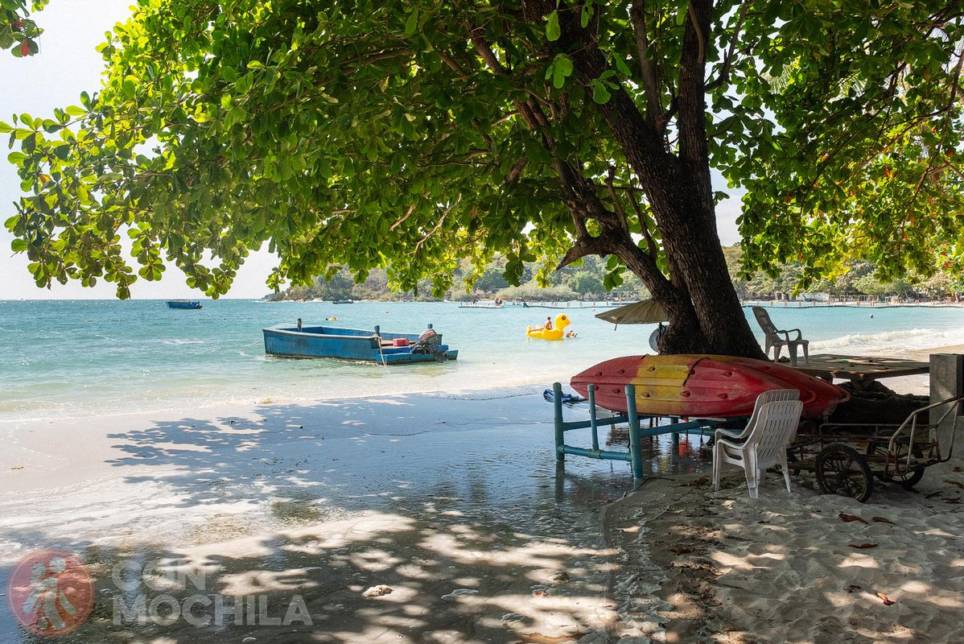 Ao kiu na nok
Ao Prao
Ao Prao is the beach from which to watch the sunset and the perfect place if the east coast is too windy. However, it's the same one we were talking about at the beginning of the article, a bit saturated with resorts and full of boats at rush hour.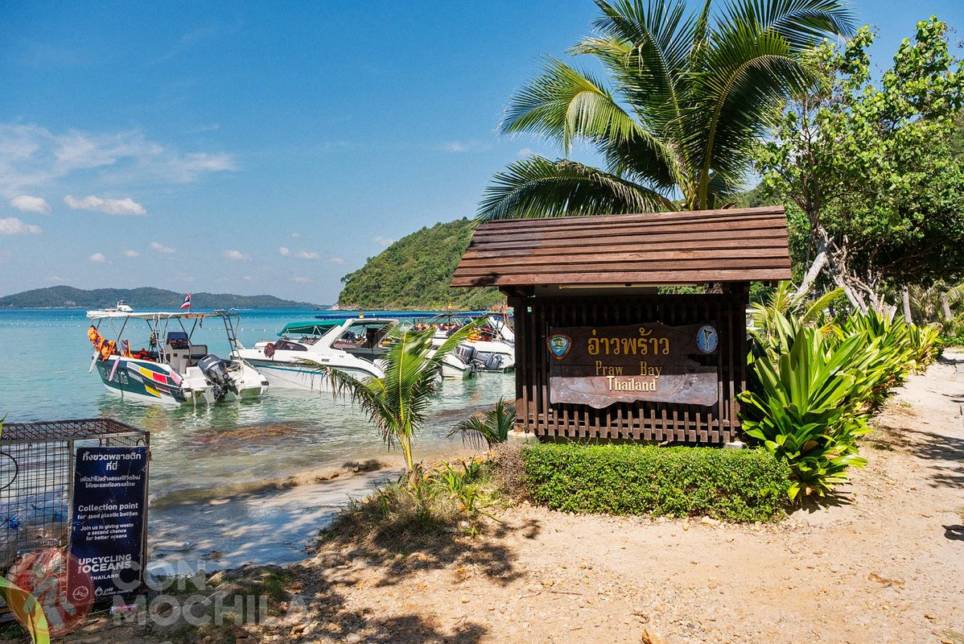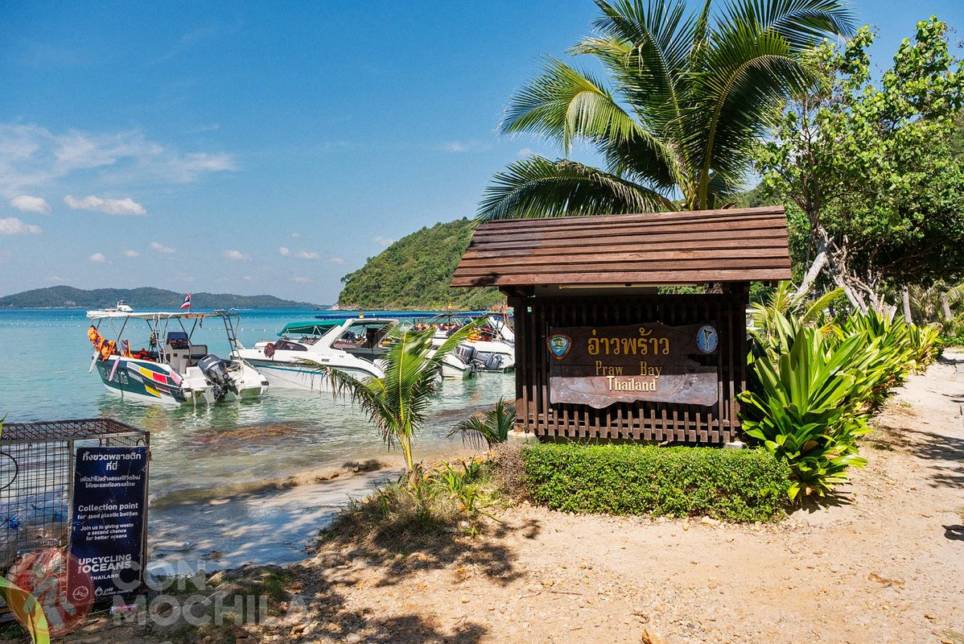 Ao Prao
In the photos you can see how clear the water is and how clean it is, something unusual in too many beaches in Southeast Asia (point in favor, not everything is bad).
Clear waters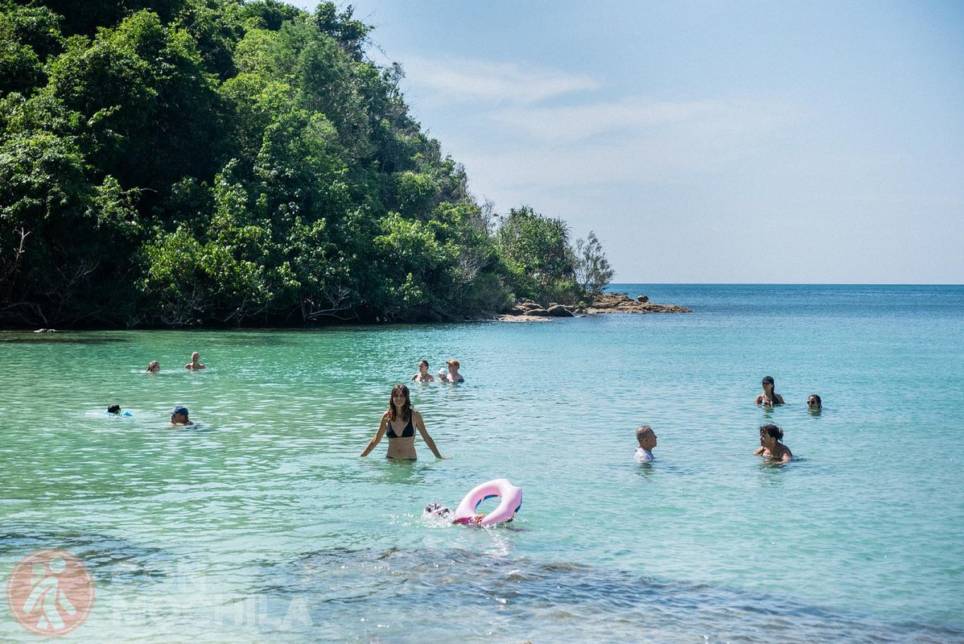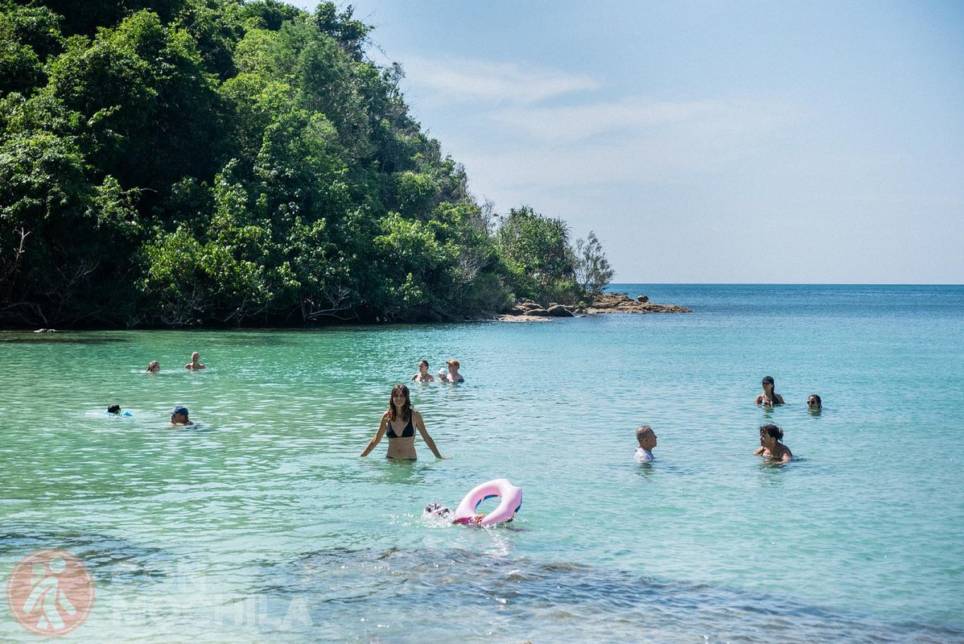 When the boats leave, you enjoy your swim more
When the excursion boats arrive, it is full of people who come down to have lunch. At one end of the beach the agencies prepare tables with food for the tourists who go there to eat.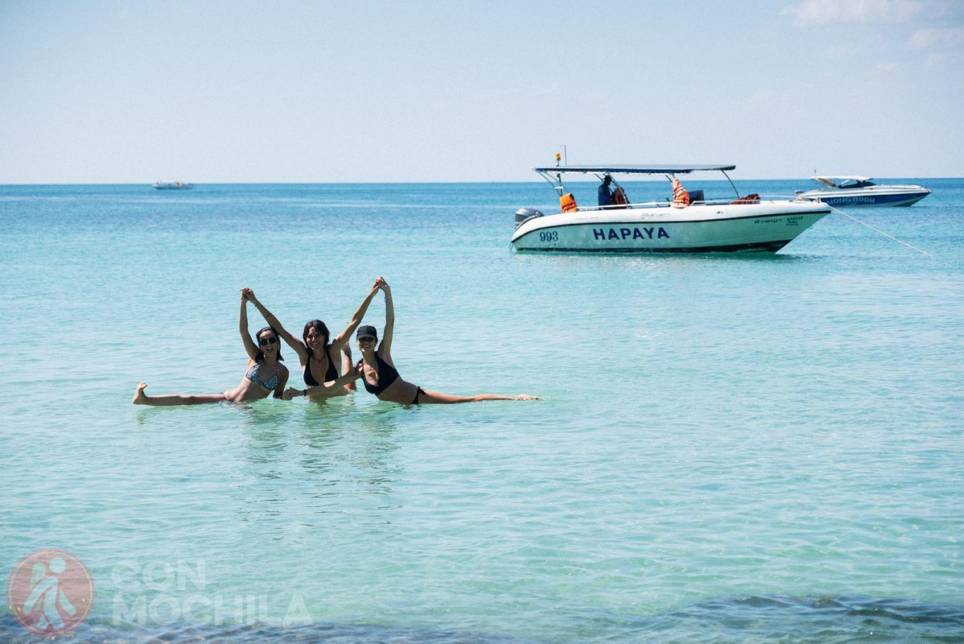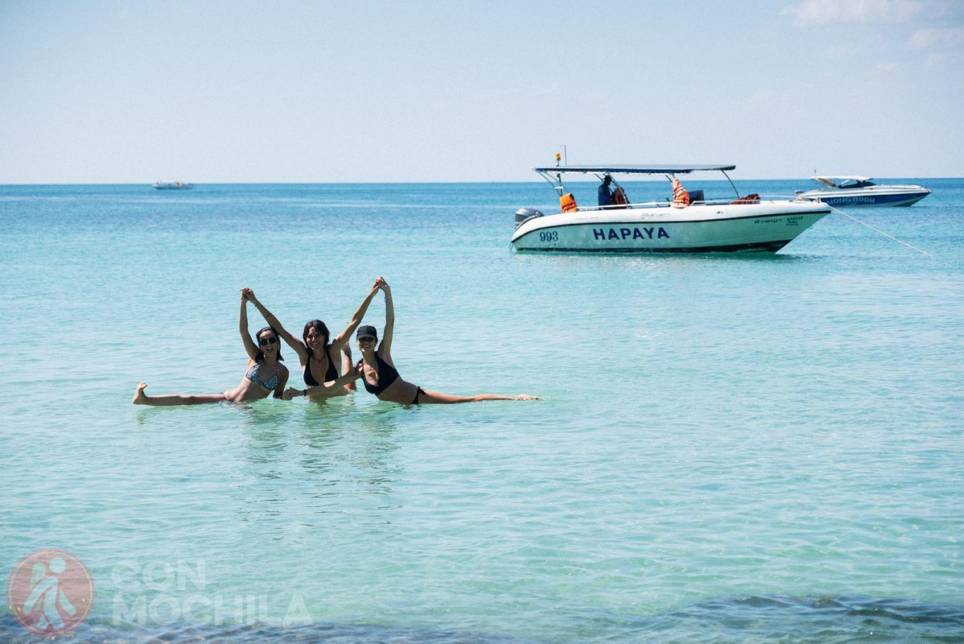 Imitating XD staff
Viewpoints
South of Koh Samet there are a couple of lookouts from which you can see the small island of Koh Chan. Apart from taking some pictures, there is not much else to do there, so it is not worth going if you do not have your own vehicle. The good news is you don't have to pay to get to these.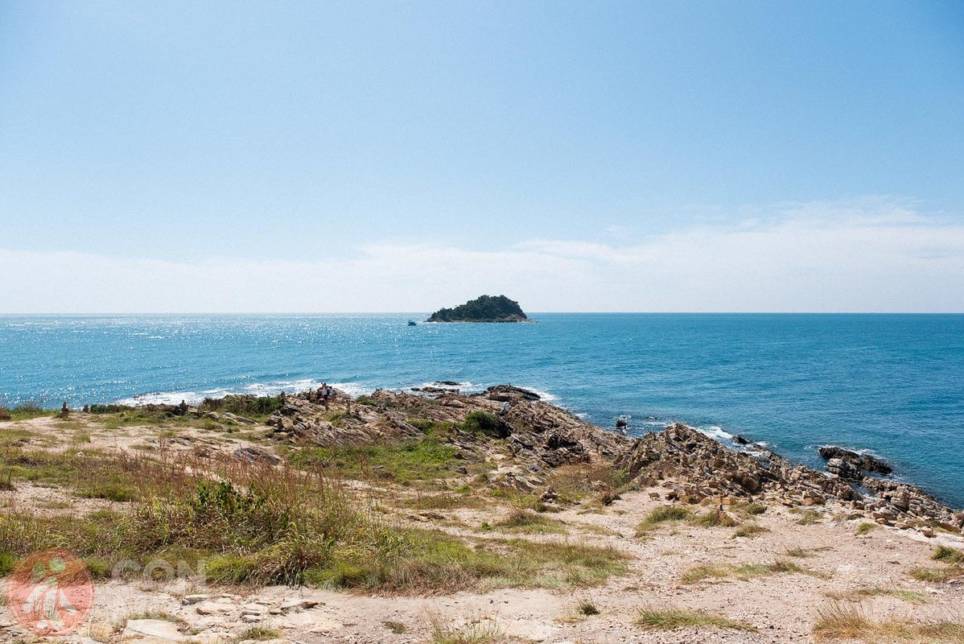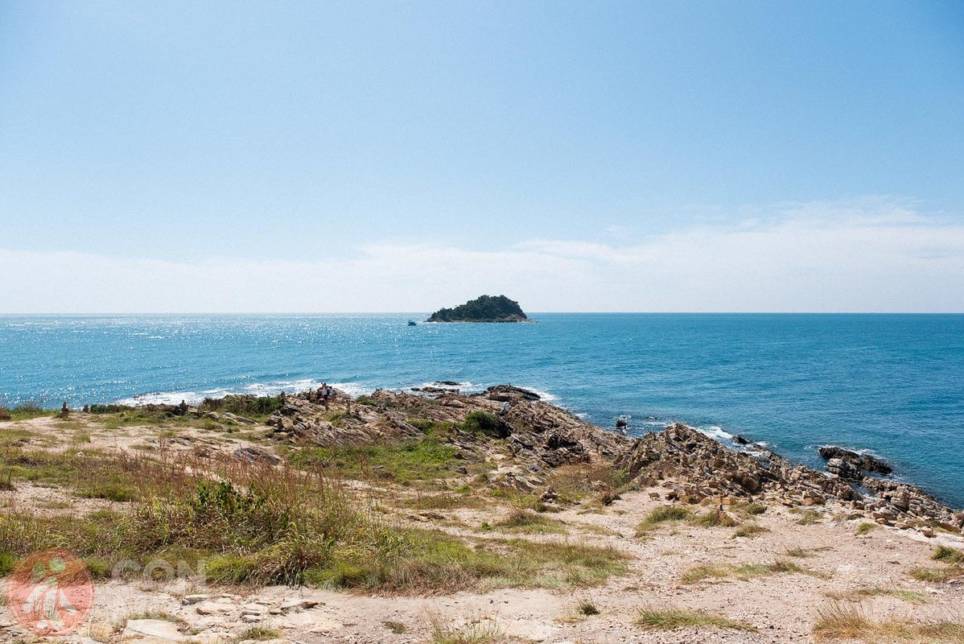 Viewpoints of Koh Samet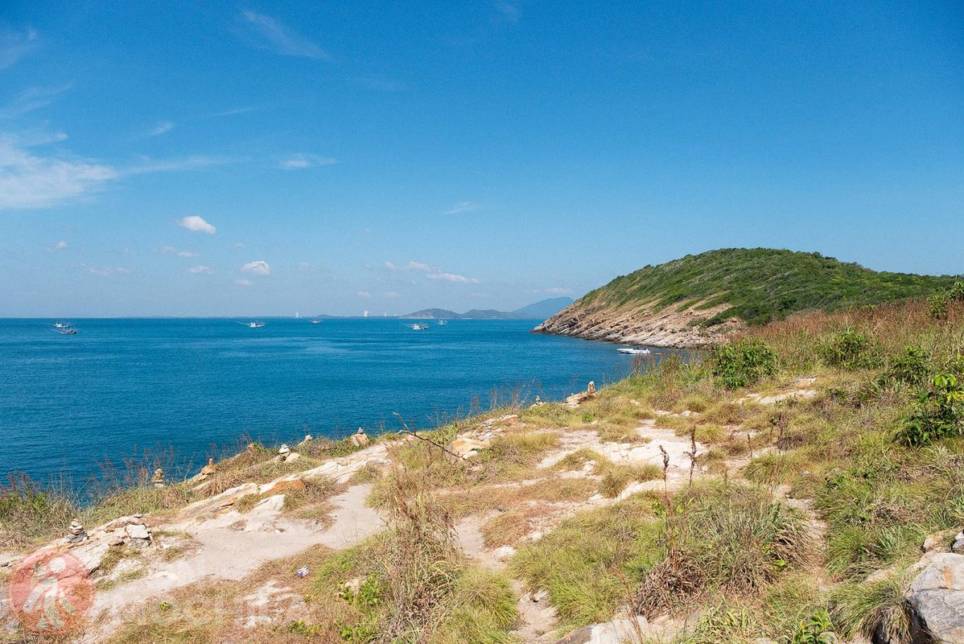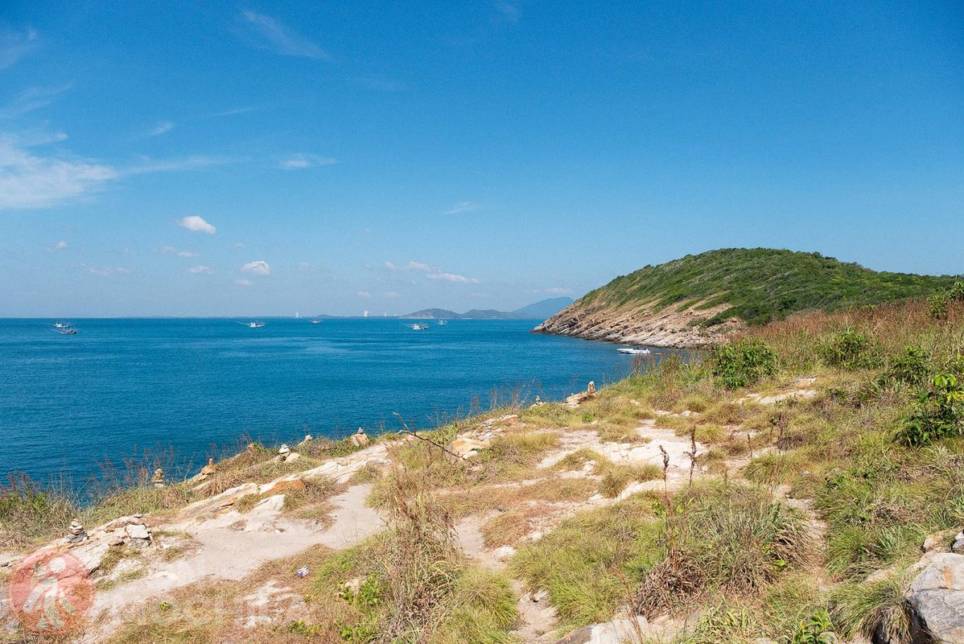 And its views
Once we had seen the island and had not found any beach we liked too much, we went to lazy in the restaurants near our accommodation, to the north. They were expensive, yes, but at least they were nice and had a view.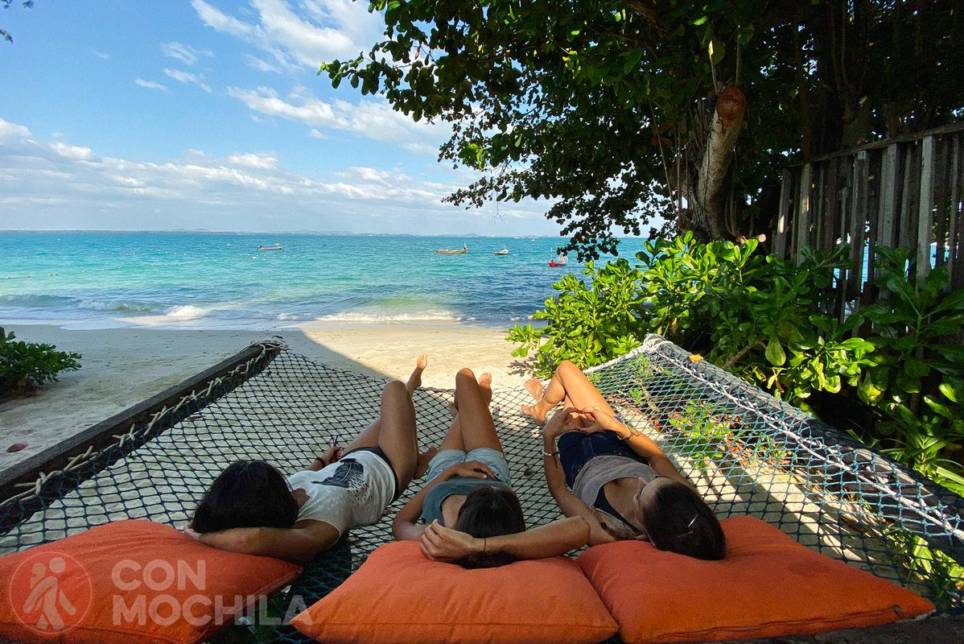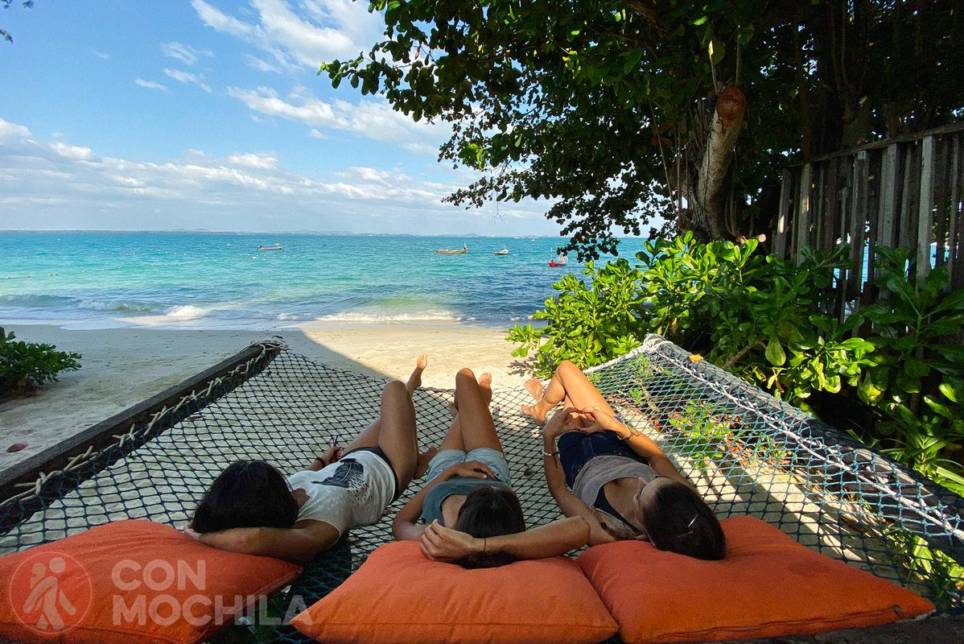 One thing we did do: rest
How to move
You can rent a motorbike and ride around the island at your own pace or you can take a taxi. They are pick up type and usually take groups of people from one beach to another, at least to the main ones.
Where to sleep
There is some accommodation for between 10 and 20 euros, but this is not common, as everything is usually more expensive than in other areas.
How to get to Koh Samet from Bangkok
Step 1: Bus from Bangkok (Ekkamai station) to Ban Phe dock in Rayong, takes about 3 hours. Step 2: Ferry from Ban Phe to the islandAlternatives: Boonsiri company sells combined bus + ferry tickets which you can buy in 12go asia and some agencies sell minivan + ferry tickets. you can also get from Koh Kood or Koh Chang with Boonsiri company. The ticket includes the two ferries (to Trat Quay and from Rayong Quay) and the bus between the two (there is no direct ferry to Koh Samet, you have to go by road from one port to another).
Conclusion, to go or not to go to Koh Samet?
Our humble personal opinion is that it's not worth it. If you have time, we recommend that you go to another area, to a larger island where, at least if it is a bad day, you can do other activities.
Location