Are you preparing your trip to Vietnam or considering it as your next getaway destination? Whether you're still doubting or already planning, let us show you in this article the most emblematic of this country, one of our favorites in Southeast Asia.
We have travelled to Vietnam on several occasions and the first time we visited it together we did it on a motorcycle (you can read our adventure on the motorcycle route through Vietnam). There are many places that we recommend and to which we would return with our eyes closed, but we are going to recommend those that we consider essential. Yes, traveling with our own vehicle we had the opportunity to visit less crowded places, see a piece of rural Vietnam and live more authentic experiences, but if you do not have so much time (we take 2 months to travel from north to south) stay with the most important: here goes!
The 11 best destinations to see in Vietnam
1. Hanoi
"He who forgets his history is condemned to repeat it" seems to be something very clear to the Hanoians, who show theirs and their culture through a series of museums, monuments, prisons and pagodas. No one who steps on Hanoi will leave without knowing more about the war.
However, the capital has been able to adapt to the flow of travelers who travel through Southeast Asia and make this city an obligatory stop, so in the area of the Old Quarter there are hundreds of accommodations, restaurants in which to enjoy the rich Vietnamese cuisine and of course, thousands of humble places in which to savor the always appetizing cà phê.
Old quarter
Hanoi is a city to which you can devote two or three days perfectly, enough time to walk on Lake Hoan Kiem, visit the citadel or the temple of literature, or learn in one of its many museums.
Temple of Literature
2. Halong Bay
Halong Bay, a World Heritage Site, is undoubtedly one of the must-see sites on a trip to Vietnam. Located in the Gulf of Tokin, 170 km from Hanoi, it occupies an area of water of more than 1500 km² with almost 2000 islands of rock covered with vegetation, sailed by the traditional Chinese "Junk" boats with red sails.
A local legend tells that when the Vietnamese fought the Chinese who tried to invade them, the gods sent a family of dragons to help defend the land from the invaders. This family of dragons began to spit out jewels and jade that ended up becoming the islands and islets that dot Halong Bay, joining together to form a great wall against the invaders. Many of the locals still believe that the dragon is in its waters…
Halong Bay
One of the most popular activities is to do a day trip or two sailing on its waters. You can stop on some islands, kayak and, if you go in good times, even take a good dip.
Typical Halong Bay boat
3. Hoi An
Hoi An is a coastal city whose port bids farewell to the Thu Bon River at the end of its journey to the China Sea. It also welcomes the thousands of tourists who, attracted by the World Heritage designation, visit its beautiful and well-preserved old town.
Hoi An by day
The options in Hoi An are infinite, so much so that you can spend a couple of days wandering through the narrow streets of its center that they always have something to offer the traveler: historic buildings, museums, old houses open to visitors, assembly halls known as hoi quan, restaurants, craft shops, colorful lanterns, tailoring where you can get pompous dresses at good prices …
Hoi An at night
4. Hue
Located right in the middle of Vietnam and crossed by the perfume river, Hué is one of the most charming destinations in the whole country. Former imperial capital during the Nguyen dynasty, with a citadel that is well worth spending a few hours and a few surroundings with a lot to offer, in this city one can spend a couple of days discovering the set of monuments declared World Heritage.
Imperial Tomb of Minh Mang
Although the city has suffered a lot in modern times, it retains quite well the original appearance of an ancient eastern city, with royal buildings and traditional monuments located in natural landscapes. The architecture of the ancient capital of Hué reflects the traditional Vietnamese soul. In 1993, the Hué monument complex was included in UNESCO's World Cultural Heritage List.
Imperial Tomb of Emperor Tu Duc
5. Mekong Delta
The Mekong River runs for about 4,600 kilometres from its source in Tibet to its mouth in the South China Sea. On its way through China, Myanmar, Thailand, Laos, Cambodia and Vietnam, it changes its name, irrigates the villages it crosses and floods the landscapes, giving wonderful views from beginning to end. In the last part of its journey, the river branches out and extends throughout southern Vietnam forming what is known as the Mekong Delta. Its last kilometers are an explosion of life and can be visited on an organized tour from Ho Chi Minh.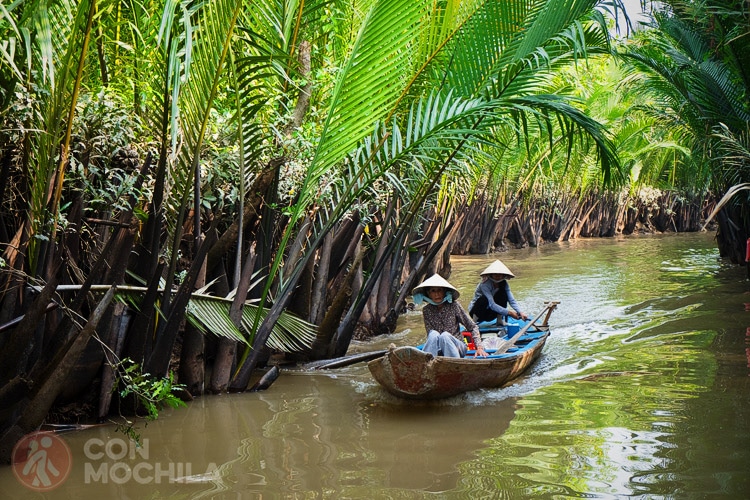 Mekong Delta
Traveling its roads by land
6. Tam Coc
Somewhat less well known but with nothing to envy about the popular Halong Bay, Tam Coc, just a few kilometres from Ninh Binh and about 100 from Hanoi, offers a walk and spectacular views that well deserve a halt on the way. As if the very atolls of the bay had invaded and colonized the mainland, the enormous rock formations here are surrounded by vegetation and rice fields forming a unique landscape that can also be traversed by a small boat along the Ngo Dong River.
Spectacular view from inside a cave
7. Da Lat
Da Lat is the best place to take a break if you're spending several weeks in Vietnam. It's the capital of the province of Lam Dong and once was a place of recreation for the French. Today it is a very popular destination among Vietnamese tourists, although it is also frequented a lot by foreigners.
Dalat
One of the most curious things about Da lat is the Crazy house. At first it was called Hang Nga Villa, the name of the architect who designed it and in addition to recalling much of Gaudí's works, it is inspired by nature. The reason for this original building is to try to reconnect humans with their natural environment, hence the details related to flora and fauna.
View of the Crazy house
8. Cat Tien
Cat Tien is a 72-hectare protected rainforest area in southern Vietnam, specifically in the provinces of Dong Nai, Lam Dong and Binh Phuo. There are elephants, bears, buffaloes, lorises, macaques and langures. Images of tigers and leopards have even been collected! The problem is that these animals are very expensive to see and the chances of encountering them is very low.
Back to the hostel
The gibbons, the most scandalous of all, are the easiest to spot, but you have to get up early to do it. You can hire an excursion or go out to explore the jungle on your own, there are several marked trails.
CAT TIEN
9. Sapa
Sapa is one of the most popular tourist destinations in northern Vietnam. It is a small village located between green mountains and rice terraces, surrounded by villages of various ethnicities, the black Hmong and the red Dao. Most people travel to this mountain station with the illusion of trekking through the valley and spending a night with a Hmong family, but this is not always possible because for many months of the year a thick fog covers the village and surroundings like a mantle making the visibility less than two meters.
Sapa
Sapa
However, if the fog prevents you from enjoying the valley and it is cold, the village and its premises with fireplaces are most welcoming.
10. Vinh Moc Tunnels
Before the Vietnam War, Vinh Moc was a humble village of peasants and fishermen until, once the conflict began, he found himself situated in one of the most impoverished areas of the entire country, within the demilitarized zone.
U.S. soldiers wanted to force villagers to leave their homes because they suspected they were supplying food and weapons to Vietcong soldiers hiding on Con Co Island, just across from the town. The villagers, with nowhere else to turn, decided to stay and build a shelter to protect them from constant bombing. It was then when the idea was born to create a network of tunnels hidden in the bowels of a hill, as had already been done near Saigon with the famous tunnels of Cu Chi.
VINH MOC TUNNELS
They began to excavate the corridors that ended up being more than two kilometers in three different levels, with rooms for their inhabitants. The system was so perfected that maternity and meeting rooms were created. This labyrinth covered and was the salvation of 62 families, about 300 people who continued to live as normal as possible and even increased in number, as there were born down there up to 17 children.
11. Museum of War, Ho Chi Minh
Although the city of Ho Chi Minh we passed without pain or glory, there is a place in this city that we consider essential and is the museum of war, a building of several floors in which through objects, photos and murals is remembered the Vietnam War.
One of the most curious things are the helicopters, fighters, tanks, bulldozers or mortars, which are displayed in the courtyard of the museum, although what is on display inside the museum is no less striking.
Tank M48
It is not a pleasant visit, to see the degree of destruction that reached Vietnam during the war and the following years shakes the soul. In spite of the time that has passed, it still makes the hair stand on end to see the photos of villages completely razed, tortured people and children with all kinds of deformities as a direct consequence of the use of orange gas during the war. But without a doubt it is a recommended visit in which, in a very graphic way, one assimilates something that one already knows beforehand, what a war is and what it entails. Too much violence in images for the most sensitive but a necessary reminder to learn from history…
Images of the consequences of the war
Tell us what would be one of your essential in a comment, we will be happy to read you 🙂