After a long time of design and programming, and with a lot of new features that will appear gradually, finally sees the light our new project: conmochilapp, the free web tool with which you can organize your next trip in a comfortable, easy and fast, with all the information of all destinations to visit and including the reservations of transport, hotels or tours you may need during your trip.
Why does conmochilapp arise?
conmochilapp arises basically from the needs of the readers. Since we started conmochila, back in 2008, we have received thousands of queries regarding visas, insurance, accommodation, transport, currency exchange, etc, etc… All this helped us to gradually modify the website to give a better service to readers.
At the same time, the idea of creating a tool where we could facilitate, even more, all the information and experience that we have been accumulating during all these long years was being developed in our head.
While it is true that we were more or less clear about what this should look like, putting it into practice required time and resources (both human and financial) that we did not have. But last 2019 was the year to launch ourselves into the pool and the result, or at least the first step, we have today in conmochilapp.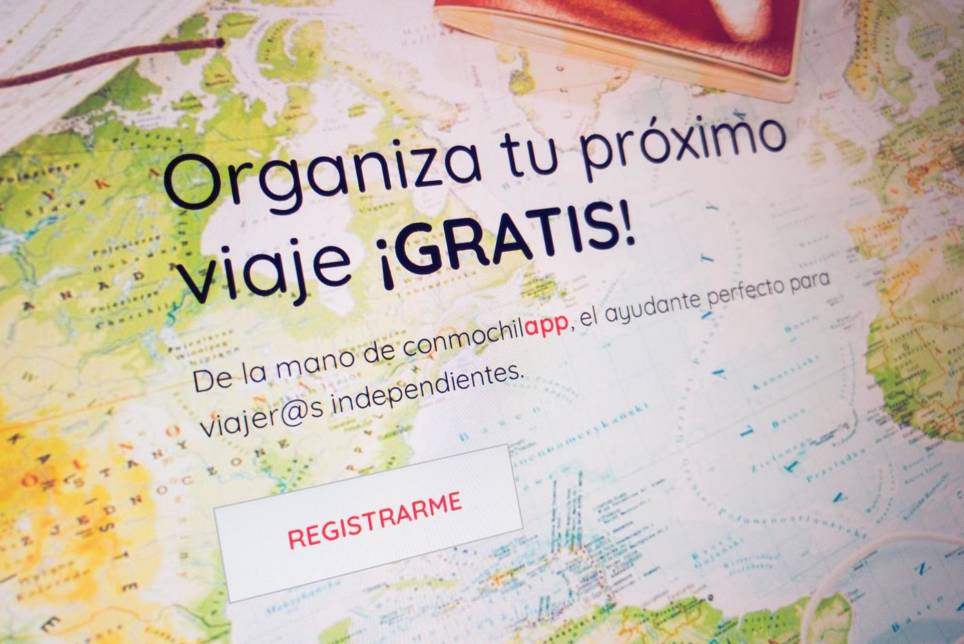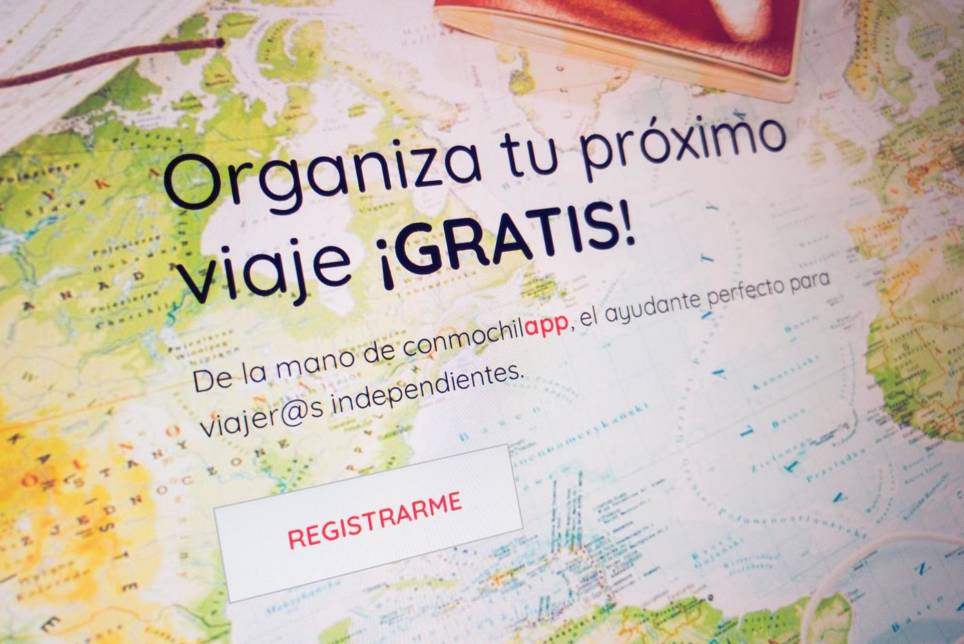 conmochialpp, the tool for independent [email protected] applications
What will you find in conmochilapp?
Basically a lot of travel itineraries to choose from with all the information you will need to organize, yourself and at your leisure, your next vacation without having to go to a travel agency.
Which countries will you be able to travel to?
Initially we are going to focus on Asia, as it is the area we have touched most. This does not prevent us from opening up to more countries in the near future as a result of some collaborations that we are assessing.
As we want to offer the best possible information, we will start with Thailand, a country we know well since we first set foot there in 2006 and where we will have spent between 2 and 3 years if we combine the time spent between Kanchanaburi and Chiang Mai and the number of times we have travelled there.
But rest assured, we are practically ready to launch Vietnam and Malaysia, in that order, and then others will follow, such as Cambodia, Laos, the Philippines, Japan and India.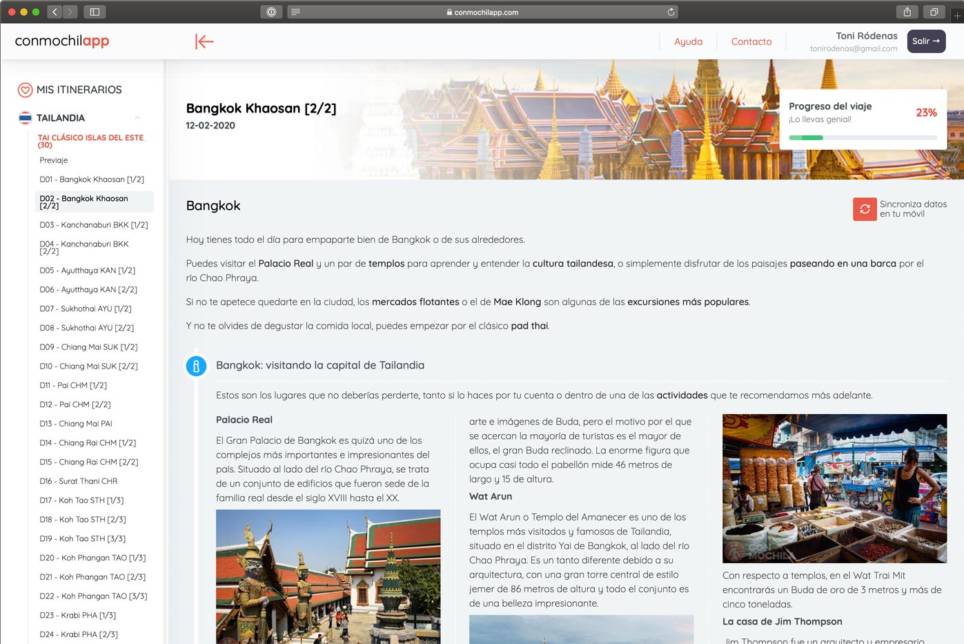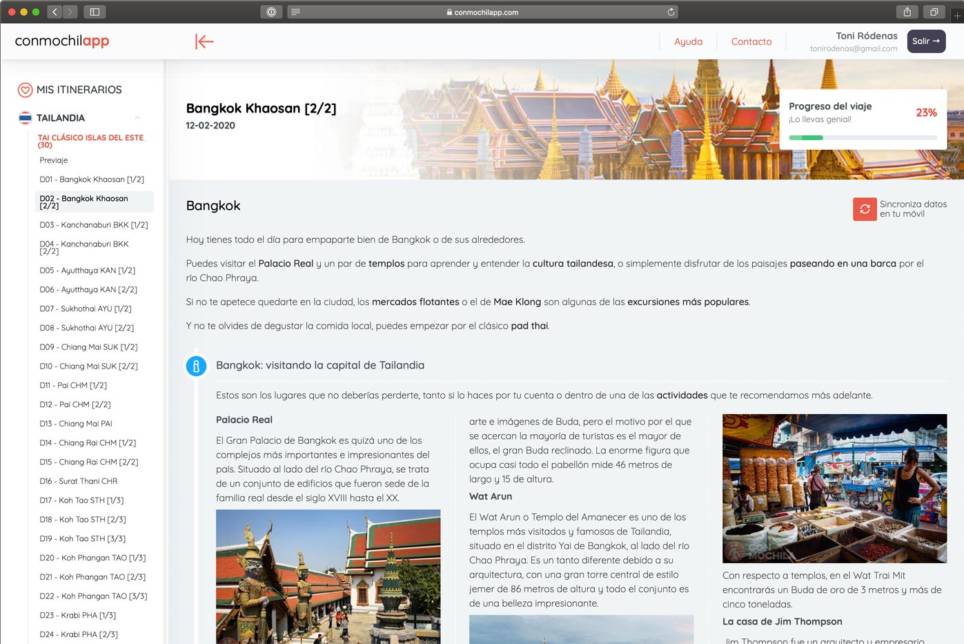 Itineraries in Thailand
How long will the itineraries last?
According to our experience and our idea of travel, we always recommend staying in one country as long as possible; at least one month to soak up the culture, gastronomy and so on.
We know that not everyone has much time to travel, but we wanted to set the minimum limit of 10 days to have at least a glimpse of that country. That is why the itineraries will be from 10 to 30 days.
How does conmochilapp work?
Step 1
As easy as choosing a destination and selecting the number of days you plan to be on the road. With only these two parameters we will show you a series of itineraries for you to choose the one you want.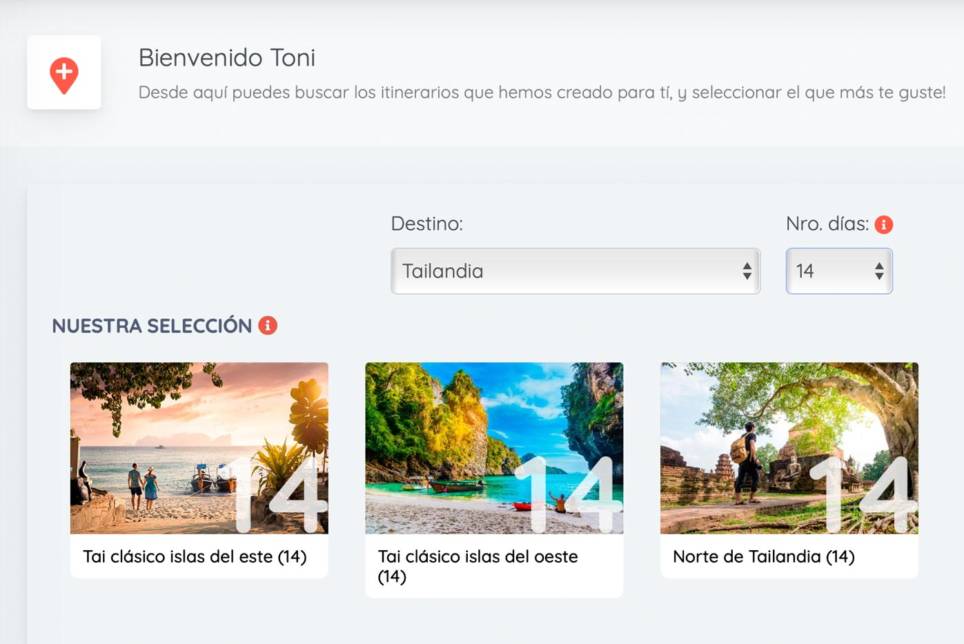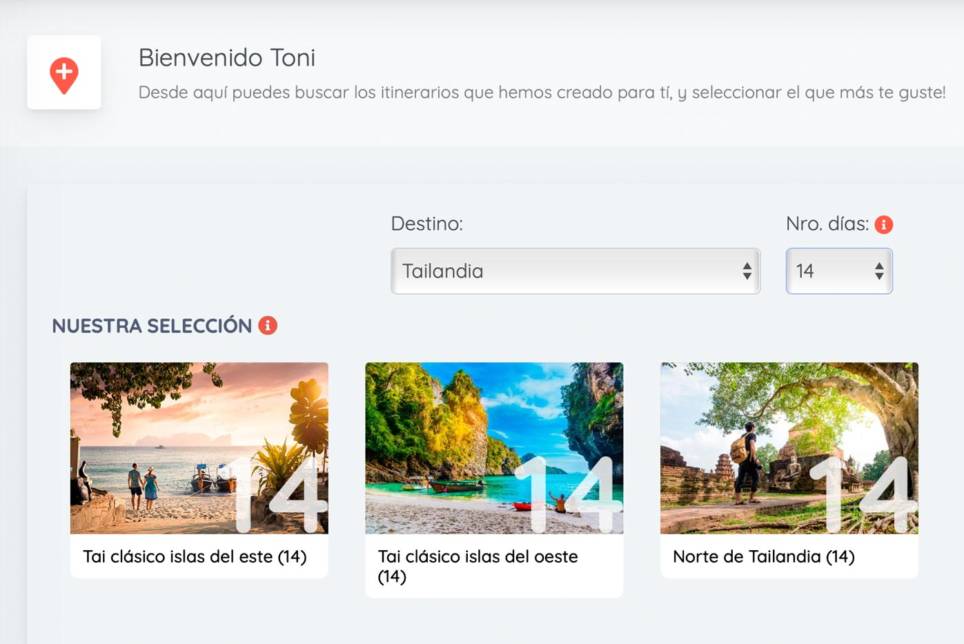 Organize your trip with conmochilapp
Step 2
Once the itinerary has been selected, the organization of the trip begins. Divided by days, we will give you information about each destination, how to get from one place to another, what activities to do each day and which hotels to choose for sleeping. All well explained and with direct links to the booking websites.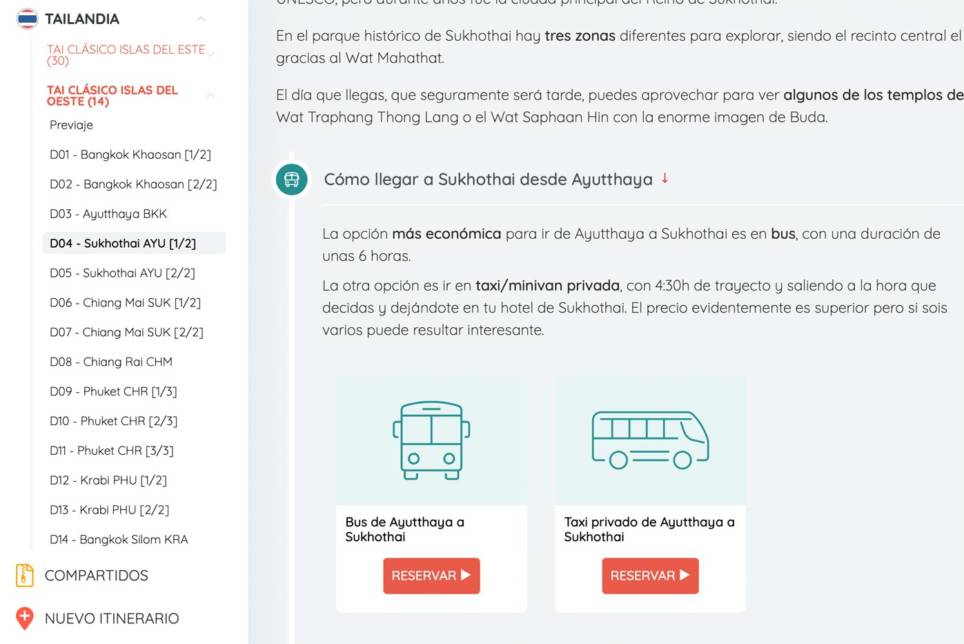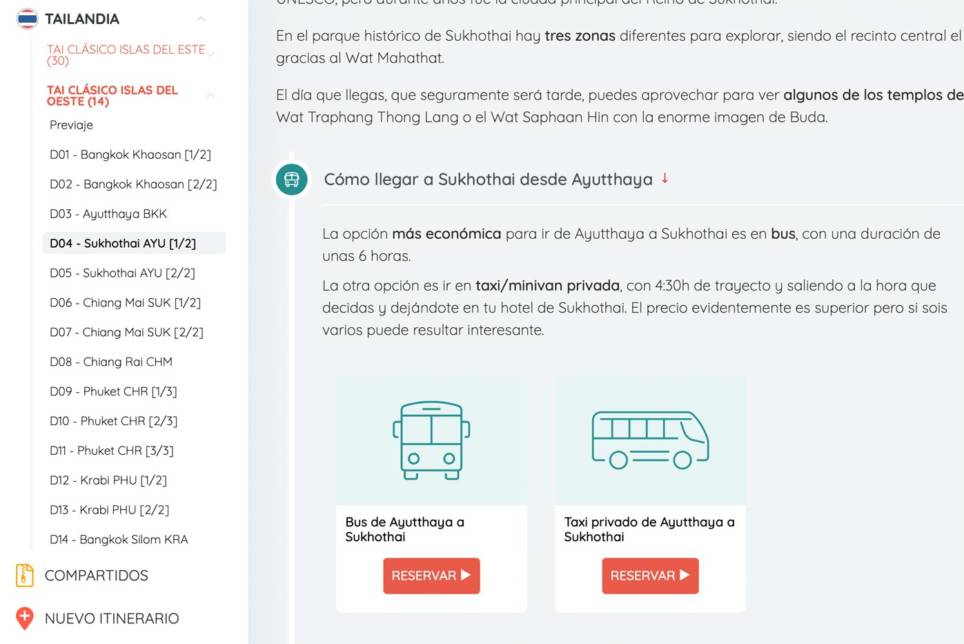 We tell you how to get there, where to sleep, what activities to do…
Step 3
Once you have booked a hotel, transport or any other activity, you can upload the PDFs of these reservations to conmochilapp. This way you will have all your travel documents in the same place so you can access them whenever you want.
Then just mark the task as "done" and your trip progress bar will increase. This way you will know at a glance what you have left to organize 🙂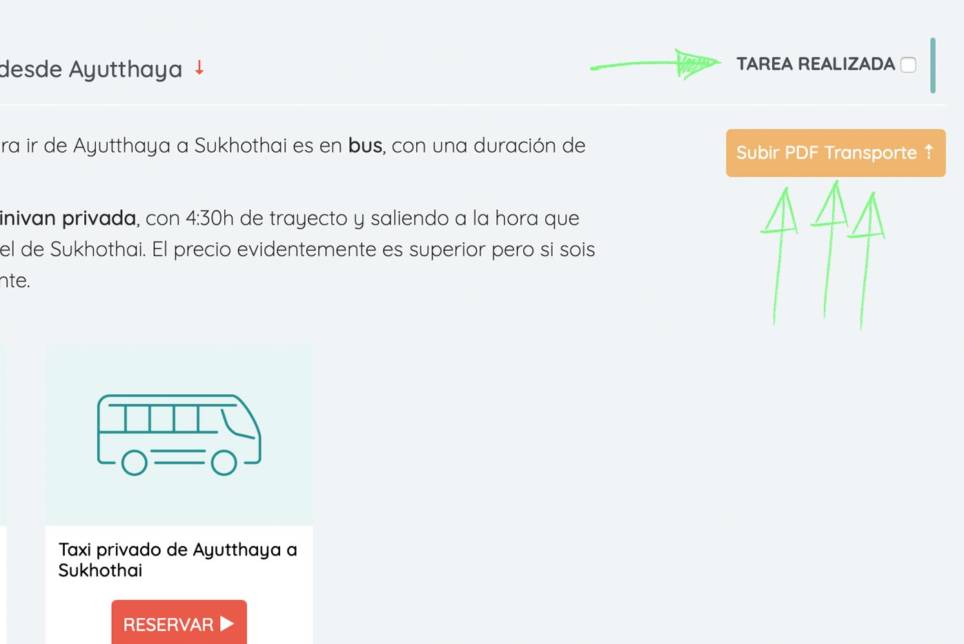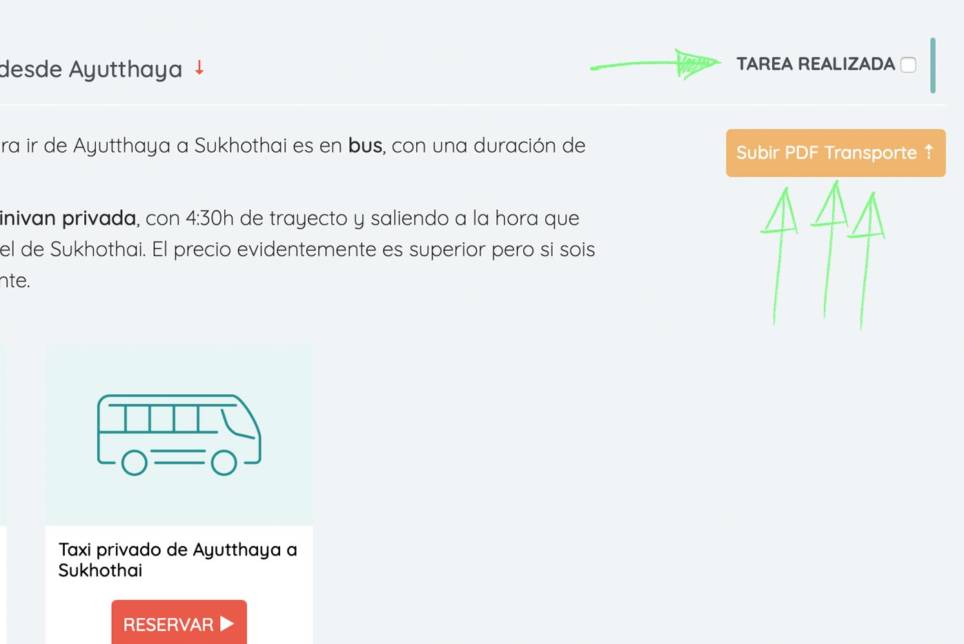 Upload your PDFs of the bookings
The smartphone app
And the good news is that you can sync these files from your smartphone using our iOS and Android app so you can access them even offline.
What is the "wallet" function of the mobile application?
This first version of the mobile application will only do the function of "wallet", ie, store all the files of the reservations or contracts that you are doing (hotels, transportation, insurance, visas, etc …) to have them all in one place and you can access them even without internet connection (offline).
Forget about searching through your emails for this hotel reservation, or the boarding pass for the plane, or the insurance policy… Once you upload these files to your conmochilapp itinerary you can click on the "Synchronize" button on your mobile and they will be uploaded to it.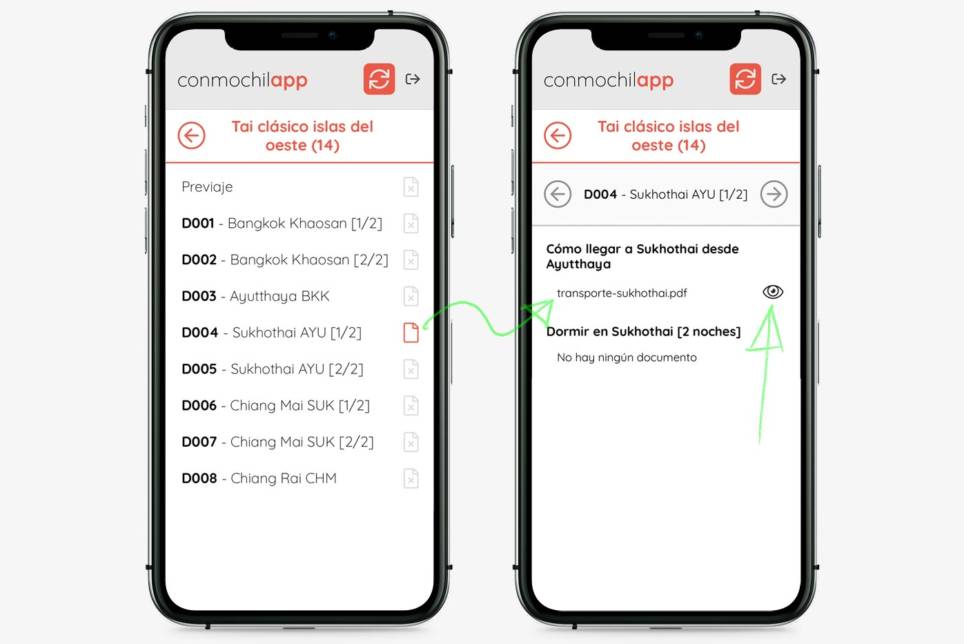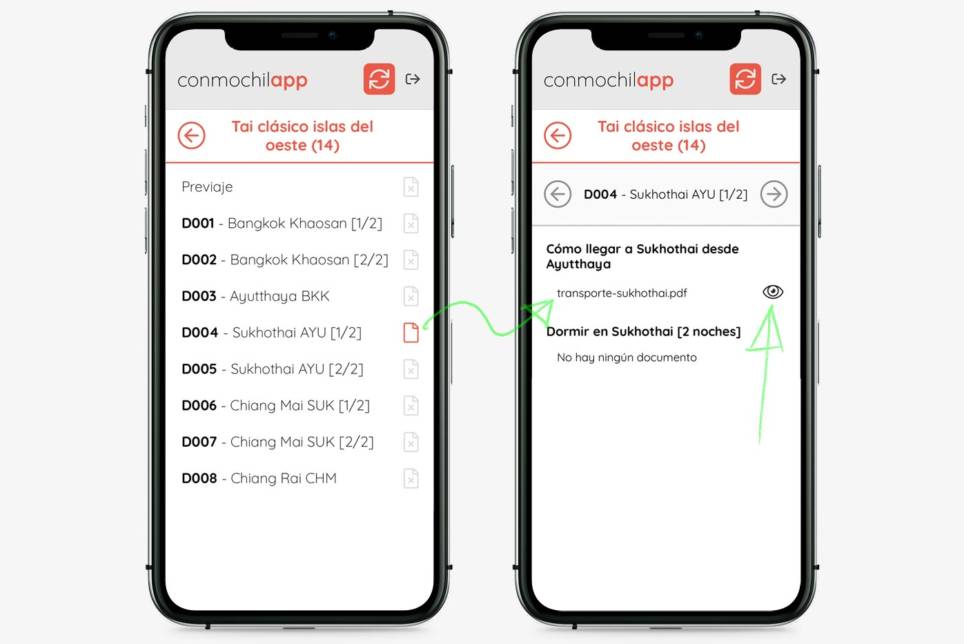 Version 1.0 of our app
Desktop + Mobile
Conmochilapp is designed (in this release version) to organize your trip from your computer (desktop) or from tablet.
In the next version 2.0 in which we are currently working, and which we will release soon, you will be able to organize your trip either from your computer or from your mobile, as you prefer.
We didn't want to delay any longer the presentation of the tool to test possible bugs and launch this version 2.0 with all the guarantees and improvements. It is because of them that we will be happy to listen to any suggestion, doubt or criticism in order to improve it little by little.